Additional information
Two layered durable case protects from bumps, scrapes and drops
We might be driving in the snow with summer tyres or taking on the challenges without any preparation, however, nothing matches the frustration and sadness of dropping and damaging your precious mobile phone. Nevertheless, this can easily be avoided with a brand new Olixar Vulcan series case, which uses a dual-layer design, in order to provide a substantial shock and impact resistance! The inner soft and flexible TPU layer will gently surround and preserve the natural beauty and excellent condition of your Samsung Galaxy S9 Plus, whilst the polycarbonate hard exoskeleton extends the protection to the vulnerable parts of your handset, such as corners or the back. The case also comes with a complimentary easy clip-on lanyard, which allows an easy and secure carry of your mobile phone.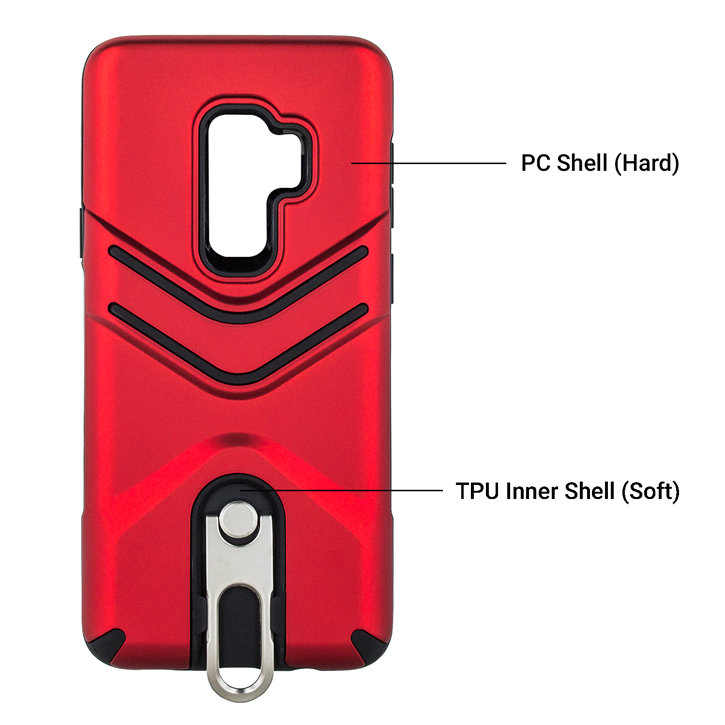 Features an impact-resistant polycarbonate exoskeleton
The Olixar Vulcan Protective Case features a hard PC exoskeleton, which covers the back and vulnerable corners of your phone from damage. You can be certain that your phone is well-protected from drops, scrapes and any of the shock impact.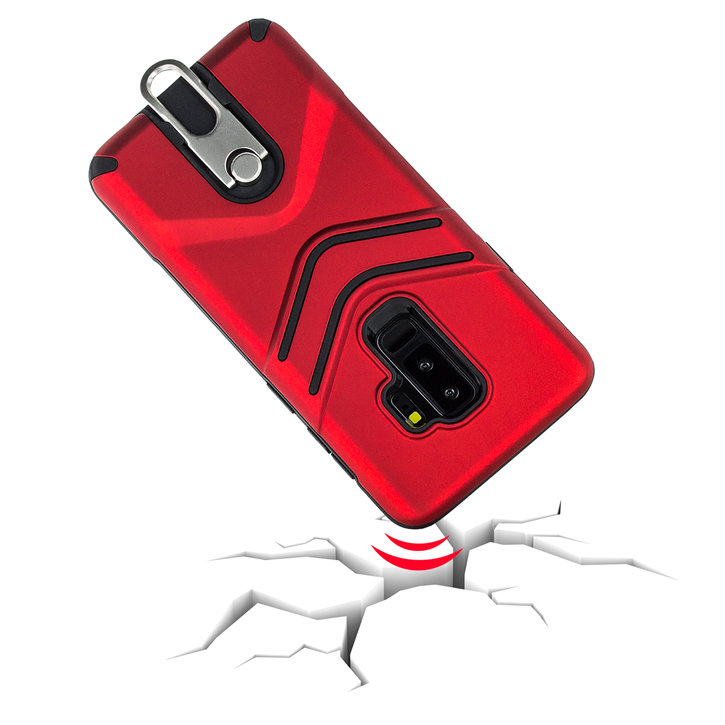 Textured grid finishing improves grip and comfort
Complementing the protective properties of the dual-layer design, this case benefits from a textured finish, which not only helps to improve grip when holding the handset, but also makes it more comfortable in the palm of your hand.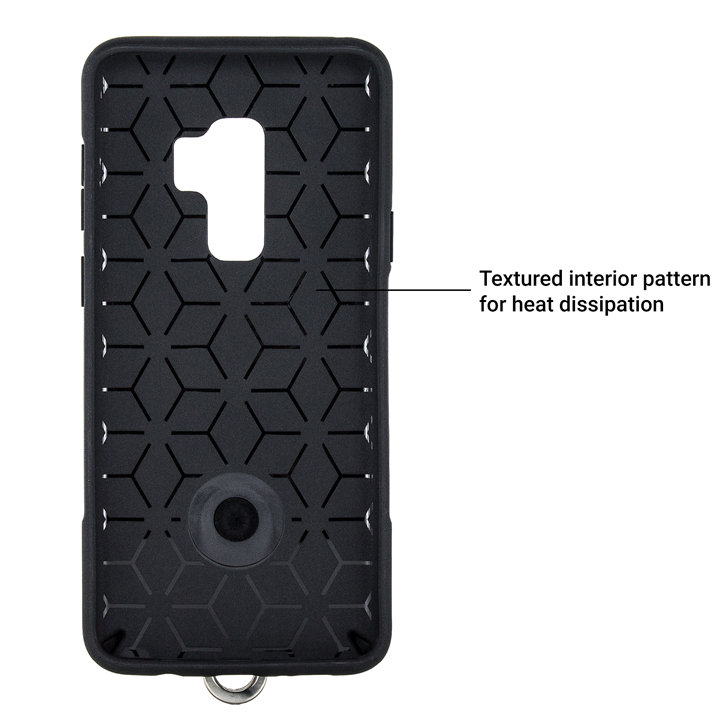 Portable 360 degrees flip-out stand for portrait and landscape viewing
On the back of the Olixar Vulcan case, there is an ergonomically designed 360 degrees rotating metal stand that flips out, allowing you to create and enjoy a perfect viewing angle for watching media, web browsing and reading. You can now use your Samsung Galaxy S9 Plus comfortably in both vertical and landscape viewing positions.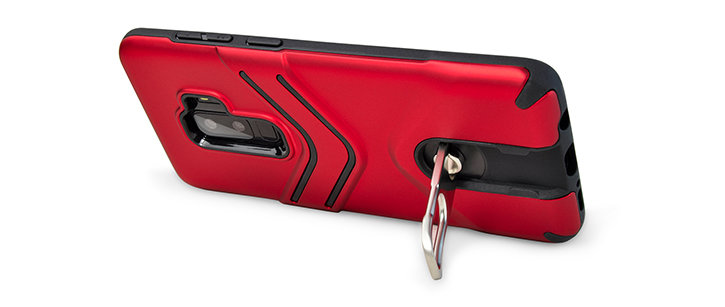 Comes with a lanyard that clips to the stand mount
If you need to use your mobile phone constantly (i.e. as part of your job), putting it in and out of the pocket can be a little bit tiring and potentially uncomfortable for some. Eliminate this issue with the Olixar Vulcan protective case, as it comes bundled with a complimentary, yet sturdy lanyard, which can be clipped onto the flip-out stand for easy and secure transportation around your neck. The lanyard can be clipped on a removed in no time, so you will definitely find the right setup to match your needs.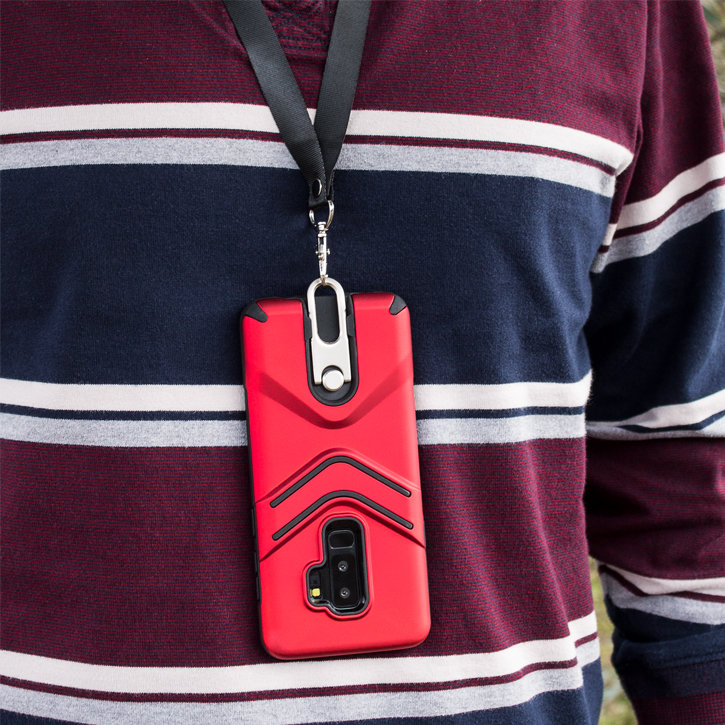 Cut-outs for the main ports and features of the phone
This protective case has been designed specifically for the Samsung Galaxy S9 Plus meaning it has cut-outs for the main ports and features of the smartphone. It is worth mentioning that the side buttons, such as volume rocker and power buttons will be covered, yet remain responsive and tactile, underneath a flexible TPU layer, which adds an additional layer of security to your Samsung Galaxy S9 Plus.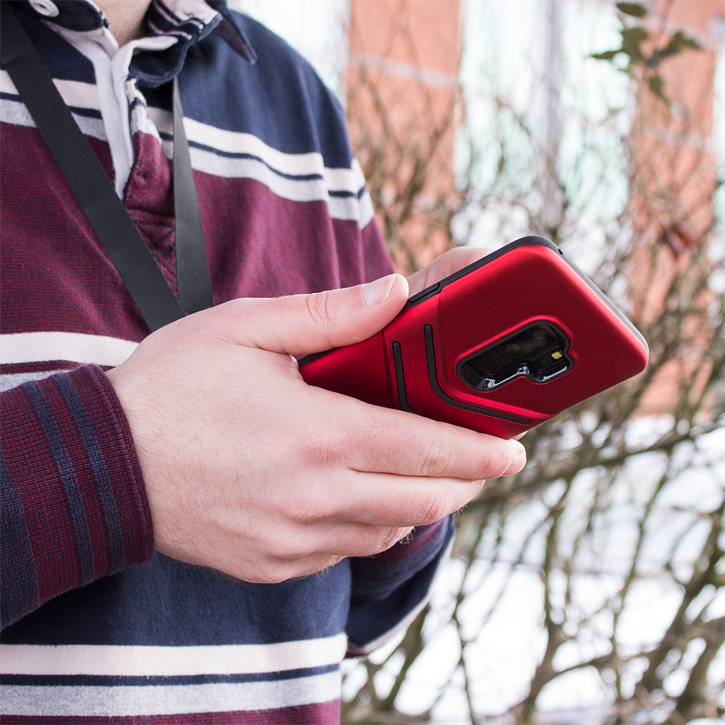 Raised camera bezel will protect it from scratches and dirt
The Olixar Vulcan case protects your Samsung Galaxy S9 Plus' camera with a bezel extending beyond the rear of the case, raising the camera above the surface, thus eliminating the dirt and surface scratching. Keep snapping without any horrible scuffing and scratching getting in the way.