Additional information
Wireless charger and case pack for charging and protection
Wirelessly charge and protect your iPhone X with this wireless charging pad and clear case pack. Including a wireless charging pad, allowing you to charge your iPhone X with one of the latest charging technologies - while also ensuring your phone is protected from harm with the ultra-thin transparent case.
Wireless charging with no cables required
Why spend time fussing with awkward cables when you could have the ultimate convenience of the included wireless charging pad? It really is as simple as just putting your iPhone X down on the pad. No extra steps, no connecting tangled or fussy cables...just beautifully convenient, minimalist wireless charging.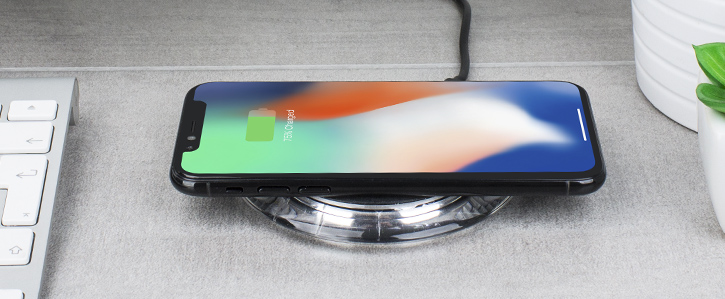 Thanks to a considerate, slim design, this wireless charging pad will look great and function perfectly in any environment - from home to office to hotel room and anywhere else you care to name. An unobtrusive yet attractive semi-transparent design ensures that the wireless charging pad enhances the aesthetic of any room in which it finds itself.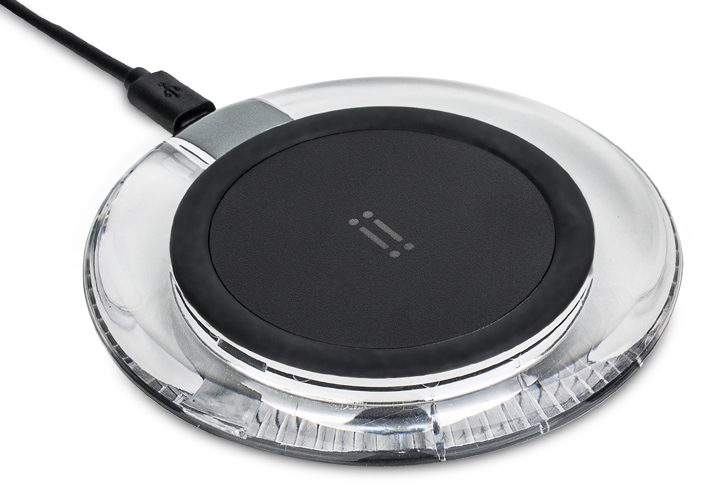 Quickly check whether your device is charging or not with the wireless charging pad's built-in LED charging indicator. A stylish blue LED glows if the iPhone X is charging, illuminating the edges of the pad and augmenting the look of the pad - and your device - even further.
Ultra-thin and lightweight case for durable protection
The included ultra-thin case is designed to be extremely slim and lightweight yet remains strong - so you can be assured that this case will add virtually no extra bulk to your iPhone X so it will still fit in your pocket with ease.

Created from a strong and durable gel material, which allows it to be flexible like silicone and tougher than a crystal case - providing you with long lasting protection from scratches and dirt. The Ultra-Thin reveals the phone's beauty from within while still ensuring its protection. With a 100% transparent design, this see through case allows you to view all of your phone's original styling.

Within the case is a carefully positioned dotted pattern, preventing bubbles which can typically occur from the collection of trapped moisture.
Keep your iPhone X within the case while wireless charging
When you wish to charge your iPhone X, with alternative cases you may need to remove the cover so the wireless charging functions correctly. The iPhone X Case and Wireless Charger however ensures you can leave your ultra-thin case on while using the wireless charging pad - to ensure your iPhone X is protected at all times.
Please note: Wireless charging pad charging cable included. Mains USB adapter required.