Additional information
3-in-1 charge and sync cable for a wide range of devices
The vast majority of smartphones and tablets on the market utilise either Micro USB or USB-C connectors to charge and synchronise data. With this in mind, this official 3-in-1 cable from Samsung offers astonishing utility and convenience. Three Micro USB connectors more than provide for most devices, while an interchangeable USB-C adapter future-proofs this cable, ensuring you're ready when you do change your phone.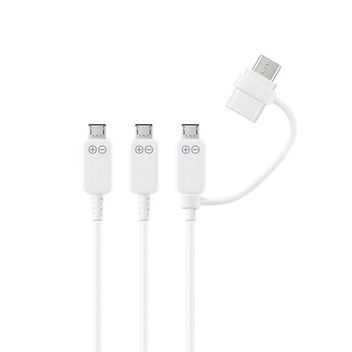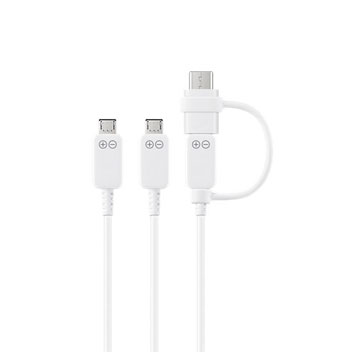 3x Micro USB connectors
Charge your phone from flat or transfer files, photos and music with this cable's 3 included Micro USB heads. You could even use these connectors to charge and sync two or even three devices simultaneously - great if you need power in a pinch.
Many devices other than phones use Micro USB connectors, including dash cams, e-readers, power banks and more - you can take advantage of this cable's features to charge all of them, plus anything else with a Micro USB charging connector.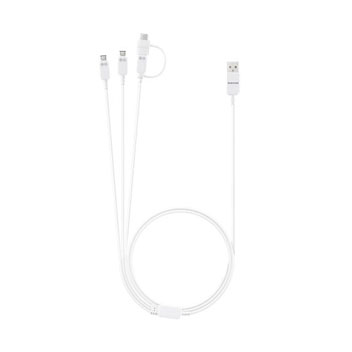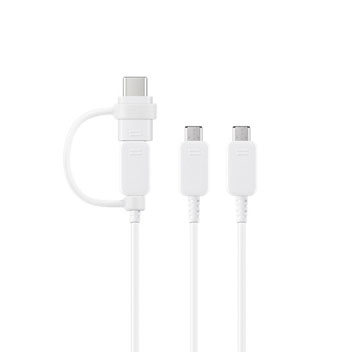 USB-C adapter for newer devices
More and more devices are beginning to adopt the USB-C standard for their charge and data sync connector. Even if your phone is Micro USB, you might change in the future, and you'll want a cable as versatile and useful as this - with an interchangeable USB-C connector - for charging and syncing.
Max 2A charging speed
This cable offers maximum charging speeds of 2 Amps, which is more than enough for a speedy, efficient charge on the vast majority of smartphones. This value is shared across the three connectors, too, so charging two or even three devices simultaneously is viable.
Official Samsung accessory
As this cable is designed and manufactured by Samsung, you can be sure of the highest possible quality standards throughout the entire production process.