Additional information
Localised, motion-sensitive light for any dark area
Need to give some light to a dark area, but don't want to wake the entire family with your dazzling room lighting? Simply install one of these in any area that requires it. Built-in PIR motion sensor technology ensures that the light will activate each time you move near, so you won't even need to press a single switch. The effect is pleasing and VIP-like as your path is illuminated. Another more important aspect is safety. If you have children moving around in the dark, or even sleepy adults, the safety benefits of having their path lit without having to turn the main lights are on are invaluable.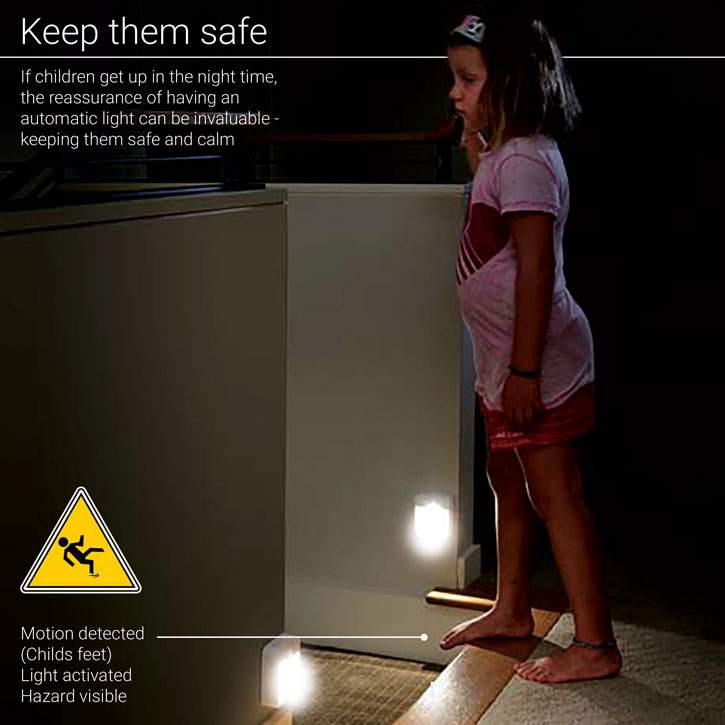 Passive infrared sensor constantly and efficiently detects movement
Now you'll never need to worry about whether you forgot to switch off the light. The Motion Sensor Handy Lamp from AGL features a passive infrared sensor, which is constantly scanning for movement. When motion is detected, the light will instantly switch on and stay on for 40 seconds, then blink off as soon as that time period elapses.
The motion sensor hardly uses any battery power, though - this is an efficient and convenient lighting solution. The light sensitivity meter will measure the amount of light too to detect if it needs to activate or not. There's no point activating in daylight for instance and this would just consume battery power unnecessarily.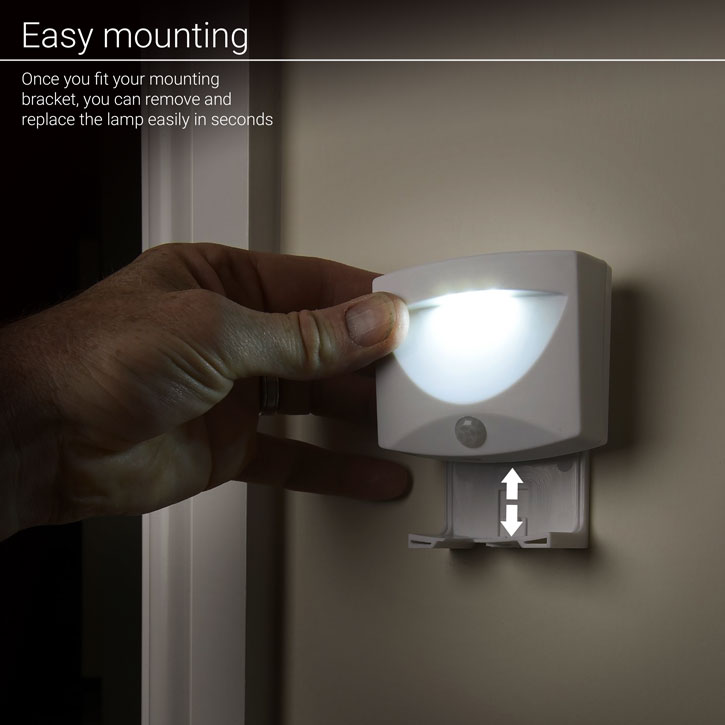 Versatile and handy for countless potential applications
There are so many situations where this light could come in handy. Need to find a lost shirt at the back of a dark and crowded wardrobe? Lost your car keys under the bed or on the drive? Car boot light on the blink (if you even have one) and need a compact, convenient solution? Adding the finishing touches to your hair or outfit in front of a mirror before you head out? All of these are situations where the Motion Sensor Handy Lamp could be a lifesaver, and you don't even need to touch a button.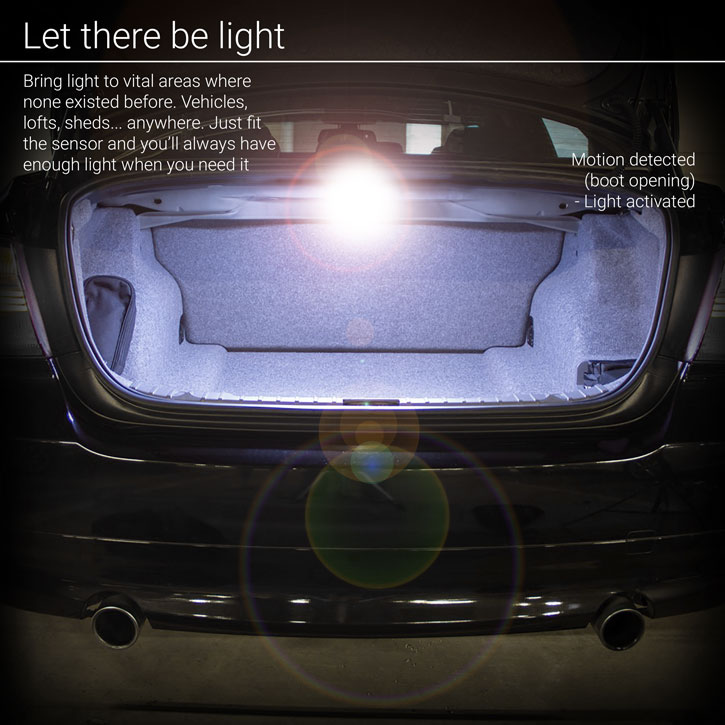 Completely wireless with no trailing cables
The Motion Sensor Light from AGL is totally reliant on batteries, so there's no need to find a spare mains socket or run an annoying extension cable to your preferred spot. Just go where the light is installed and the ingenious sensor technology will do the rest.
5,000 activations from one set of batteries
Using just 3 AA batteries (not included), you can activate this light strip a staggering 5,000 times - giving you a significant amount of time before you need to replace them. When you do, though, all you need to do is insert 3 more AA batteries and you'll start fresh from the beginning of another 5,000 cycles. Each cycle lasts 40 seconds - which is usually enough time to cover movement through the area. If you need more time, the sensor will detect movement and activate the LEDs, so just bust a move.
Multiple mounting options for anywhere in your home or workplace
With the Handy Lamp you can choose exactly where you want more illumination. Just choose a good location, fit the mounting bracket and easily mount your Handy Lamp into it. Then you take it out and place it back in seconds whenever you wish.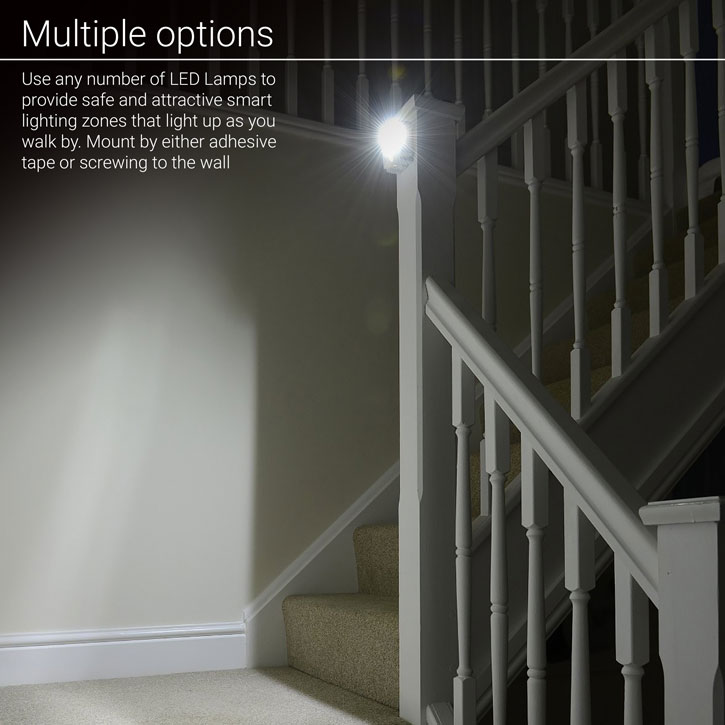 Detachable torch option
While the Handy Lamp is designed to sit on the wall, throwing light out where and when it is need most, it's easy to forget that you can take it out as you and when you wish, giving you a portable option that you can use as a torch.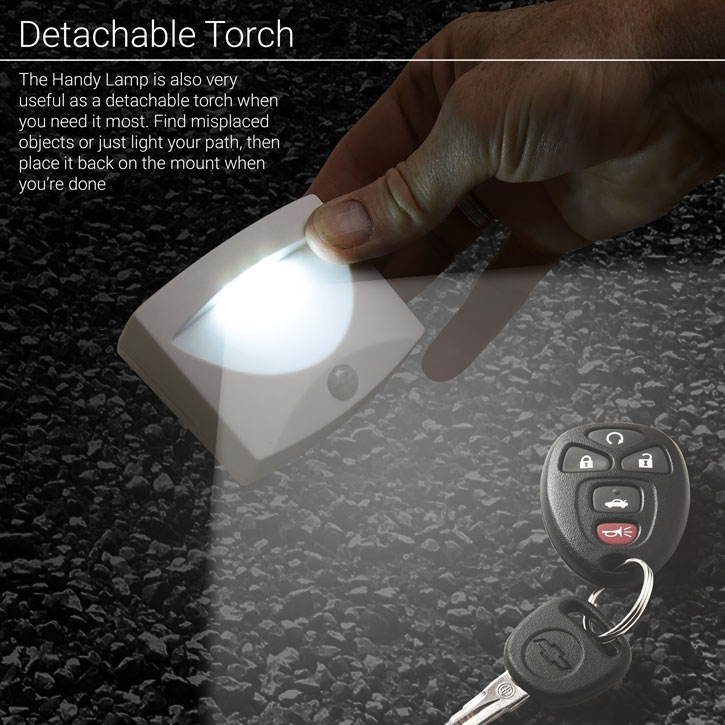 Compact, lightweight design with an unobtrusive build
This handy light has been built with convenience in mind. An ultra-compact 8 x 8 x 4cm size complements a slimline, unobtrusive construction to ensure that wherever your Handy Lamp ends up, you'll barely even notice - you'll be free to do what you need to do and your Motion Sensor Lamp won't get in the way.
Please note: batteries not included.
Technical specifications
Colour Temperature: Cool White
Energy Rating: A++
Dimensions: 80 x 80 x 40mm