Additional information
Designed to be used in more than 200 countries worldwide
Skross World Travel adapter is a perfect companion for those who tend to spend a lot of time abroad and on the go. With an array of supported inputs and outputs, you will be able to use it in more than 200 countries worldwide, making the re-charging of your personal electronic devices fast and simple.
2 built-in USB ports for a convenient mobile phone and tablet charging
As part of the build, Skross World Travel adapter comes with two built-in USB ports, which can be used at the same time as main adapter plug. Just take the USB cable that has come with your iPod, MP3 player, digital camera or a mobile phone, connect it to both the USB port on the adapter and your phone, and enjoy a quick and convenient charging.
Multi-region adapter for mains devices such as laptops
As mentioned previously, Skross World Travel Adapter with USB ports, is a perfect travel companion. It is also compatible with a lot of other electrical item, not just tablets or phones (please check your device's supported voltage for compatability)! Whether you want to use your razor, electric tootbrush or a stereo speaker - this device has got you covered!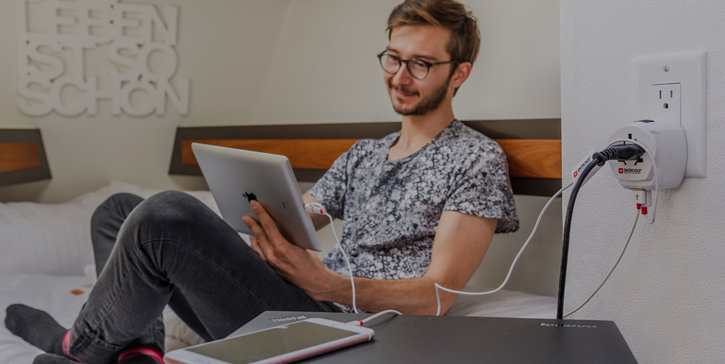 Simple, intuitive push and retract mechanism
Choose between different regions' mains inputs and outputs variations with a simple to use push & retract mechanism, which extends the plug prongs you need while retracting those that you don't. True versatility and access to power is at the flick of a switch with Skross World Travel Adapter.
Compact, yet sturdy design and build
The Skross World Travel Adapter features a well-made and a compact build which is exactly what you need whilst on the go. It is light enough to go with you on board and abroad.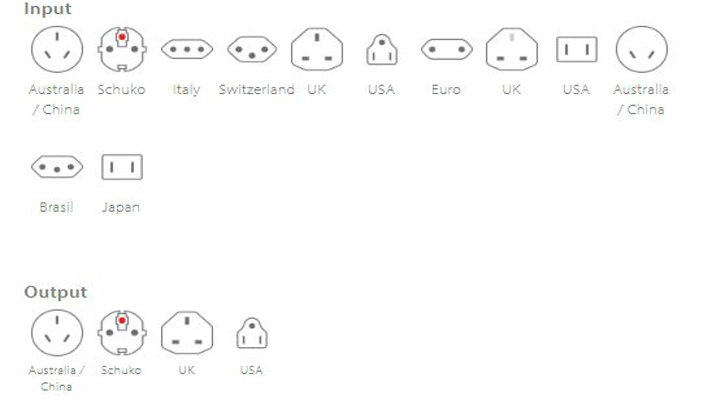 Technical Specifications:
Input voltage: 100-250 V
Total USB Output: 5V - 2.4A (shared between two ports)
Max load: 6.3A
Integrated fuse: T6.3 A
Voltage converter: No
Please Note: This adapter does not convert voltage. Cables not included.