Additional information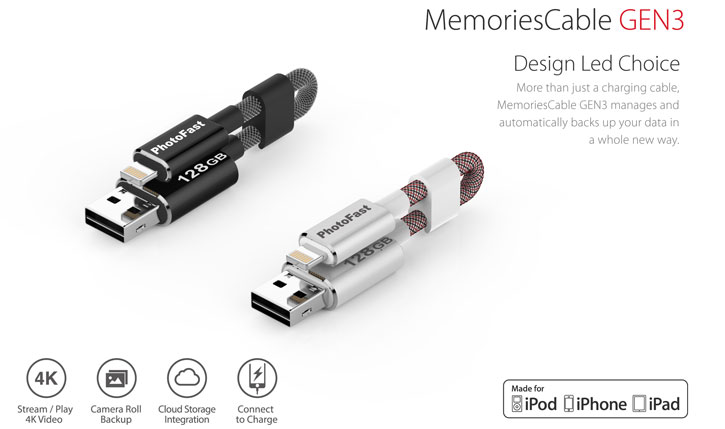 Note: The white MemoriesCable Gen 3 in white and 128GB is show for illustration purposes only.
Free up space on your Lightning compatible iOS device
Fed up with your iPhone, iPad or iPod Touch running out of storage space? Maybe your collection of photos, selection of music tracks and downloaded movies are to blame... The PhotoFast MemoriesCable is here to save the day, providing additional storage space for your Lightning compatible device so you can store more photos, music and videos while also creating more space for your favourite apps and games.
Transfer all your files between your iOS devices
The PhotoFast offers the ability to easily transfer, store and share all of your favourite videos, music, photos and personal data between your iOS devices. This includes iPads, iPhones and computers etc.
Featuring Lightning and USB connectors, the PhotoFast allows you to manage your files, saving and deleting before deciding what you would like to transfer.
4K video support
Available on the App Store to download for free, the PhotoFast i-FlashDrive One App allows you to access PhotoFast's own Media Player, so you can enjoy your favourite films in 4k. Additionally the MemoriesCable Gen 3 supports a wide range of popular file formats including MP4, MOV, AVI and more.
Play music directly from MemoriesCable
PhotoFast allows you to carry your entire movie or music library along with you without taking up a single MB of space on your iOS device. Whether it's a long flight for work or a family road trip, simply load all your media onto PhotoFast and never run out of entertainment. With a dedicated music player on the PhotoFast i-FlashDrive One App, listening to your entire music collection becomes easy.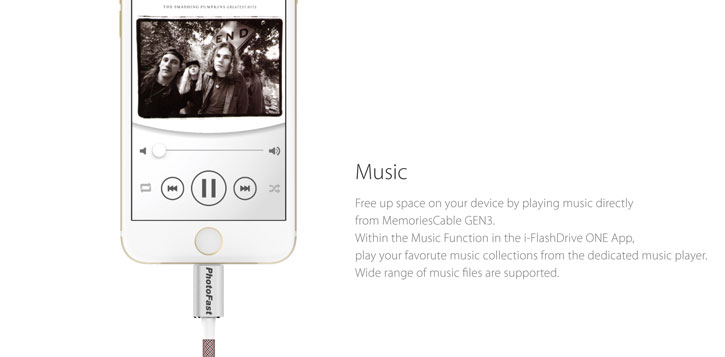 Automatically backs up your important data
The automatic backup feature will give you peace of mind and ensures every time you plug in the PhotoFast, your contacts, calendar events and photos you have taken will be backed up. You can also manually backup your data with the single press of a button.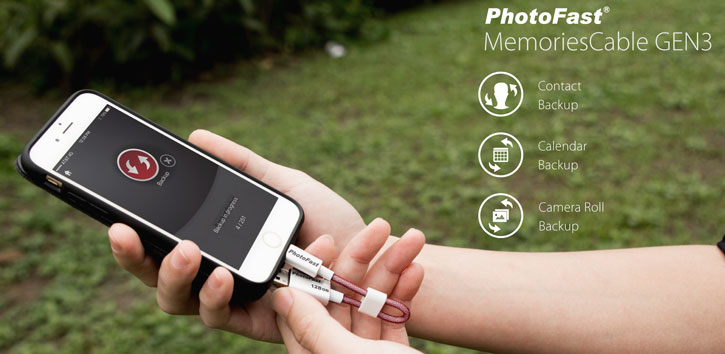 Easily move and share files across various platforms
Featuring USB 3.0 connectivity, the Gen 3 MemoriesCable is compatible across most platforms, including iOS, Mac and Windows operating systems.
Supports Apple AirPlay for streaming video to the TV
As the MemoriesCable supports Apple AirPlay, you'll be able to stream and enjoy your videos, music and photos on the large screen.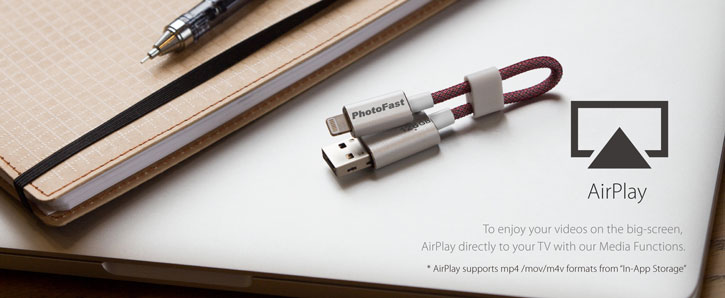 Keep your files secure for peace of mind
Keeping your files secure is of great importance and so keep them protected and locked away, all within the PhotoFast MemoriesCable Gen 3. With various options available, App Lock, Lightning Lock and USB lock, you're files will certainly be secure.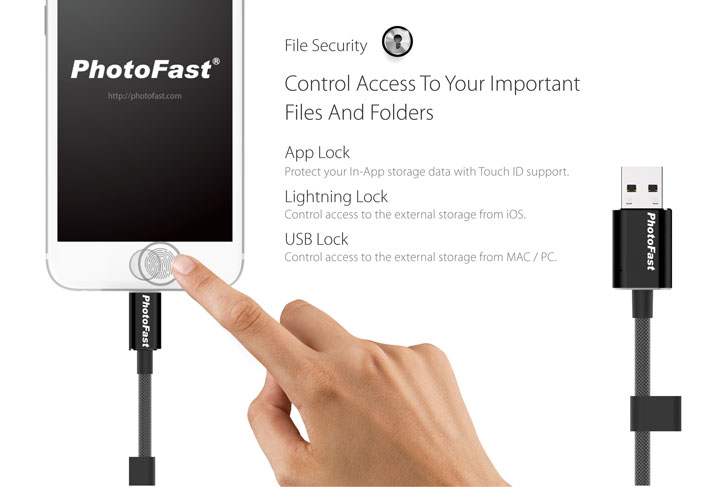 Supports social media backup and access
The MemoriesCable is great for backing up and accessing content from your social media accounts. With support for YouTube, Vimeo, Facebook, Tumblr, Flickr and Pinterest, you'll no longer have to worry about losing content from your accounts.
Voice recorder
With support for voice recording, the MemoriesCable Gen 3 allows you to record and store voice memos directly to it.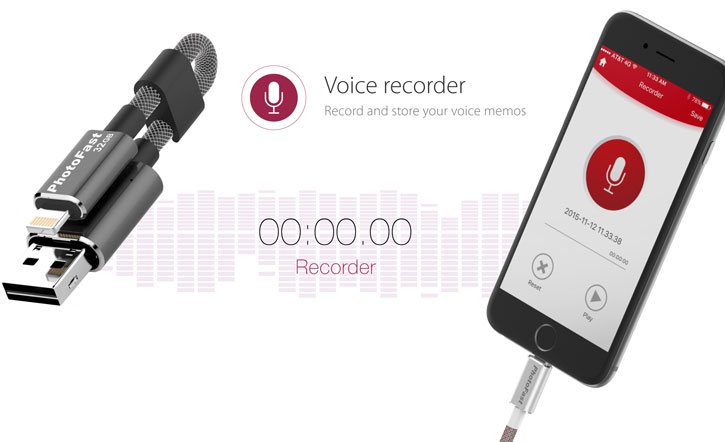 Cloud storage integration
With cloud storage integration, this solution from PhotoFast allows you to transfer your photos, videos and documents to and from your iCloud, Google Drive and DropBox accounts directly to your Gen 3 MemoriesCable.
Super portable design
The MemoriesCable Gen 3 is the perfect cable and storage device to take with you wherever you go. With a length of 181.5 mm, this short and convenient cable can easily be stored in your bag or taken with you in your pocket, without adding any uneccsary bulk.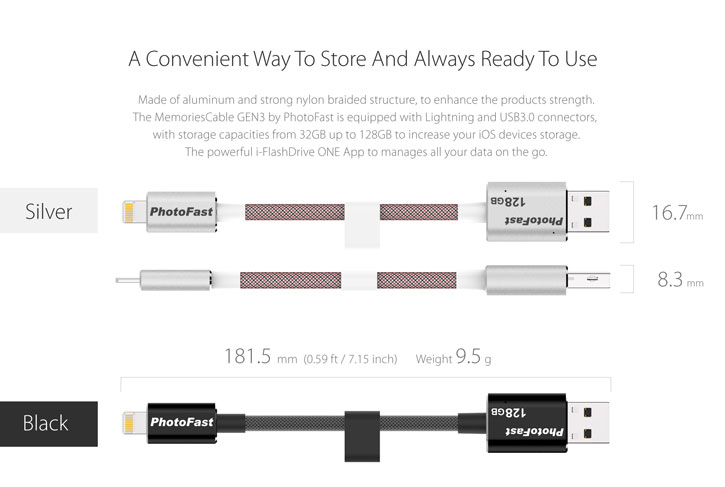 Also acts as a charging cable
The PhotoFast can also be used as a charging cable and is ideal for use with either a USB mains adapter, a computer's powered USB port or a portable power bank.
Apple licensed product
As this product is 'Made for iPod, iPhone, iPad' certified, you can be assured that the PhotoFast MemoriesCable Gen 3 is made to highest quality and allows you to store files and charge your iOS devices easily.
Specifications
Connection: Lightning / USB 3.0
Compatibility: iOS 7/8/9, Mac, Windows XP/7/8/10
Size: 181.5 x 16.7 x 8.3 mm
Weight: 9.5 g
Supported File Formats
Document: Pages, Numbers, Keynote, doc, docx, xls, xlsx, ppt, pptx, rtf, txt, html, pdf
Image: jpg, png, bmp, gif, tif, tiff, ico, xbm, cur
Audio: mp3, aac, aif, aiff, wav, m4a, caf
Video: mp4, mov, m4v (without DRM), mkv, avi, flv, rm, rmvb, wmv, vob, 3gp
Others: zip