Additional information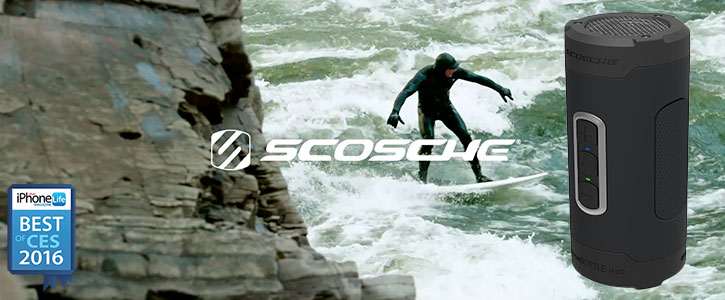 360° Full, balanced room filling sound
The Scosche BoomBOTTLE H2O+ allows crisp wireless sound wherever you go - and we mean, wherever! Scosche BoomBOTTLE H2O+ features a powerful 50mm high-quality speaker with a passive subwoofer for impressive bass, switchable equalization (EQ) for sound enhancement outdoors and a powerful, internal rechargeable battery for you to charge your mobile devices from the speaker, providing you with enough power to enable your media to fill the room with engaging high fidelity audio. The 360° omnidirectional diffuser design produces immersive sound in every direction - so you play it loud and proud indoors or outdoors in any weather.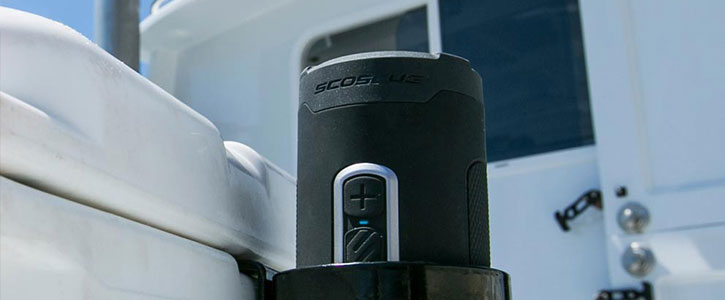 Stylish and rugged outdoor waterproof design
The Scosche BoomBOTTLE H2O+ is designed to be stylish, lightweight and compact with its dimensions of 154mm (H) X 72mm (D) and a weight of just 1lb - making it extremely portable, ideal for use at home or out and about.
Designed specifically for outdoor use (although can also be used indoors), this extremely rugged speaker with a IP67 waterproof rating is strong enough to withstand knocks and drops while also ensuring water is never a problem.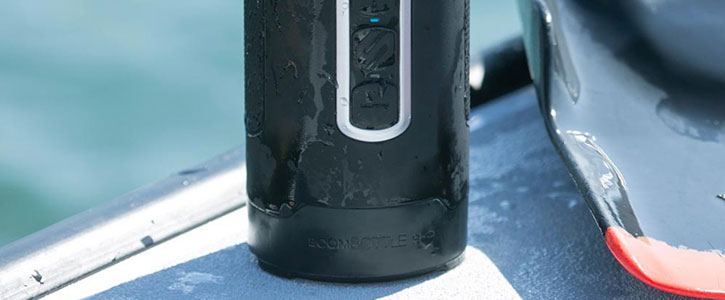 Floats so you can easily recover your speaker
If the worst should happen and the speaker falls into the water, the Scosche BoomBOTTLE H2O+ Outdoor Waterproof Bluetooth Speaker features a non-slip exterior material, making it easy to grip and carry with you. Not only that, but the speaker will also float in water, so you can easily retrieve it.
Place in chair cup holder and even your bike
It's not just called the bottle for any old reason either - it will fit into cup or bottle holders. Want to take it with you on your bike? You can. Place it in the cup holder of your folding camping chair? No problem.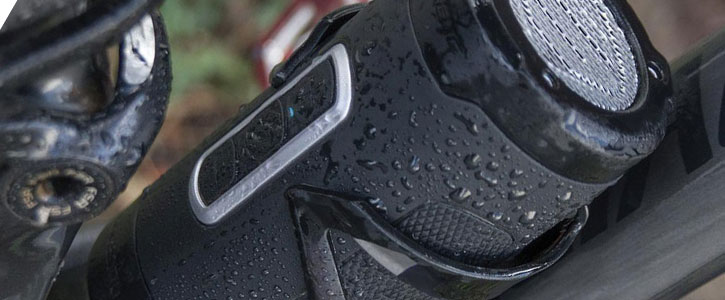 Bluetooth connectivity for wireless audio playback
Bluetooth-enabled, the BoomBOTTLE's pairing process is incredibly simple - connecting to your device wirelessly with no need for passwords. It supports any Bluetooth music device and you only have to turn the speaker on and search for it using your device.
Built-in rechargeable battery for up to 11 hours of playback
Fully loaded with a rechargeable lithium-ion battery, which provides you with up to 11 hours of play time - so you can enjoy your music all day. To find out how much battery life is remaining simply tap the + and - buttons to hear how much power is left and when you need to recharge Scosche BoomBOTTLE H2O+ 's battery.
Mount it
The bottom of Scosche BoomBOTTLE H2O+ features a 1/4" thread bottom plate so you can mount it on a standard camera tripod. Why? So you can elevate the speaker to head height and get truly amazing sound projection of course.
What else do I get?
Your BoomBOTTLE+ will include a handy carabiner clip, great for hooking your speaker to a backpack.
Left, right, stereo. Pair them up!
You want stereo sound? Of course you do! Pair to two BoomBOTTLE H2O's at the same time and you can select which one is left and which one is right, place them where you like and get a sound system without comparison for the price range. Try it! Even the most particular of audiophiles will smile.