Zizo Lightning Shield iPhone 7 Tempered Glass Screen Protector
Product part number: LSHD-IPH7
Product reference: 60568
Made from high quality tempered glass, the Zizo Lightning Shield provides crystal clear, responsive protection for your Apple iPhone 7. Easy to apply, the bubble-free installation takes a matter of seconds, making for a quick and easy application.
Additional information
Tough 9H surface hardness
The Zizo Lightning Shield Tempered Glass Screen Protector is made from multiple layers of glass and comes with a 9H hardness rating to protect your Apple iPhone 7 against scratches and impacts. Designed to be shock absorbing, the Lightning Shield provides protection for your iPhone 7 against drops and knocks.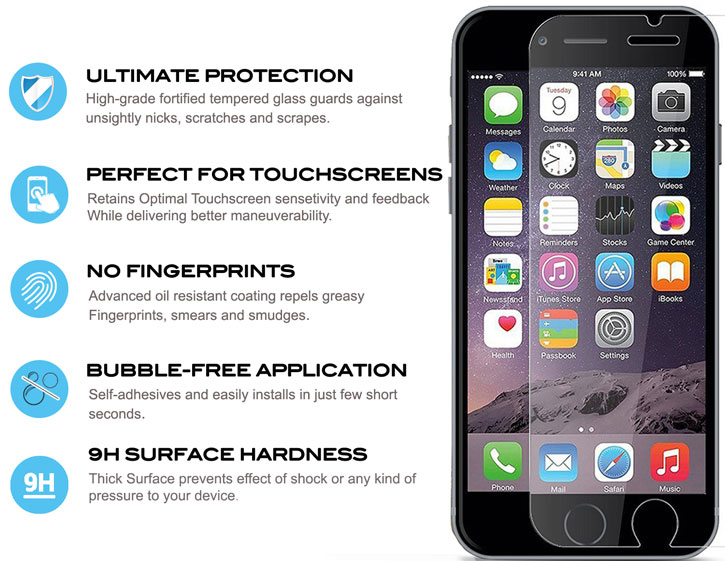 Ultra thin to provide invisible protection
While it's important to protect your screen, it's also vital that the screen protector does not hinder your smartphone use by clouding the screen or decreasing the sensitivity of the touchscreen.
The Lightning Shield has been made specially to be ultra clear and provide optimal clarity, while also being thin enough to keep your touchscreen in perfect working order.
Quick and easy bubble-free application
Lightning Shield screen protectors are extremely easy to apply, thanks to their custom cut design. Simply clean the screen with the included microfibre cloth, line up the screen protector with your phone and use the application gel and card to smooth out any bubbles. Once on, the screen protector is practically invisible.
Anti-fingerprint surface
With an oil resistant coating, the Zizo Lightning Shield repels greasy fingerprints, smears and smudges. This leaves you with a crystal clear and highly responsive screen 100% of the time.
Made specifically for the Apple iPhone 7
As the Lightning Shield screen protector has been designed specifically for the iPhone 7, the Lightning Shield from Zizo offers a perfect fit for your device.