Additional information
Converts your existing Micro USB cable to USB-C
Convert your existing Micro USB cables and connectors to work with the USB-C (USB Type-C) charging OnePlus 3T / 3, using the Olixar Micro USB to USB-C Adapter. Ensure your collection of Micro USB cables are compatible with the latest USB-C devices.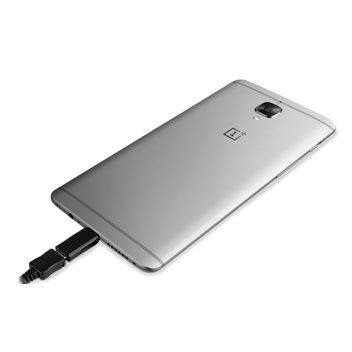 Use existing Micro USB cables and chargers
This handy Micro USB to USB-C adapter lets you connect a cable or charger with a Micro USB connector to any USB-C compatible device.
This allows you to use existing Micro USB charges and sync cables, connect to mains or in-car chargers or connect to your PC or Mac with a USB cable to transfer data.
Charge and Sync compatible
Not only charge your device, synchronise data as well between your computer and your USB-C device. Transfer photos, videos and backup data from your USB-C phone or tablet to ensure your media and files are in a safe place.
Small size lets you take it with you anywhere
This adapter is incredibly small and compact, so you can take it with you anywhere you take your USB-C device.
Perfect for converting Micro USB power banks to USB-C
Use your existing power banks and emergency chargers that feature a built-in Micro USB connection and convert them to USB-C with this adapter by Olixar. Breathing new life into your older Micro USB charging accessories, you can be sure that the Olixar Micro USB To USB-C Adapter will add additional compatibility to your power banks.
Tested to be compliant with USB-A to USB-C standards

This cable has been tested to be compliant with the USB-A to USB-C standard. Non-compliant cables can attempt to draw as much as 3 amps (3A), which could potentially damage connected equipment when they are not compatible with this high power output.
Don't take the risk, as the Olixar USB-C Charging Cable has been tested to ensure it's compliant with USB-A to USB-C standards, featuring the required 56kΩ resistor necessary to protect your devices.
Find out more on our blog post: Looking for USB-C compliant cables? Here's how we test ours.