Olixar Leather-Style OnePlus 3T / 3 Wallet Stand Case - Black
Product reference: 59933
The Olixar leather-style OnePlus 3T / 3 Wallet Case in black attaches to the back of your phone to provide superb enclosed protection and can also be used to hold your credit cards. So you leave your other wallet home as this case has it all covered.
"solidarity Leather Style Wallet case"
"Olixar Leather Phone Case"
"OnePlus3 Case"
Also available:
Most useful customer reviews
David Wareing
Lancashire
One plus 3T/3
21 December 2016
solidarity Leather Style Wallet case
Pure Quality, exactly what I was looking for. The Wallet is pure quality and shows my phone off really well and slots for credit cards and more. The service was excellent as well and I would highly recommend the company. Thank you.
David Cockshott
Newtownabbey
Oneplus 3t
18 December 2016
Olixar Leather Phone Case
Excellent product, having purchased Olixar products before I did not expect it to be anything else but first class. Thanks to Mobile Fun for sorting out a delivery hitch the day after I contacted them. I would highly recommend Mobile Fun and Olixar products for all mobile accessories as they do what they say on the tin.
Ben Humphreys
Wirral
OnePlus3
28 November 2016
OnePlus3 Case
Delivery was extremely quick and exactly how described. Case is good quality and sturdy, very good fit for pjonr, protects from drops and spills and keeps phone licked in pocked
35 Reviews
|
Write a review
---
Additional information
All round protection for the OnePlus 3T / 3
This sophisticated leather-style wallet case from Olixar keeps your OnePlus 3T / 3 secure and enclosed at all times, protecting it from general day to day bumps and scrapes, so that your OnePlus 3T / 3 stays looking as good as new for longer. This case has been specially designed for the OnePlus 3T / 3, so you are guaranteed the best possible fit. Underneath the sturdy leather-style casing is a strong and robust plastic frame, that will keep your handset safe and protected, guarding it from the rigours of general use.

Slots for your cards
This thoughtful design has it covered with inner pouches specially designed to hold credit cards, cash, store cards, driving licence or anything else of similar size - so you can travel lighter when out and about.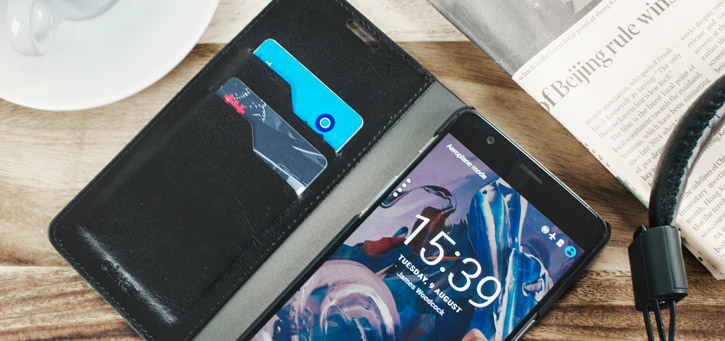 Built-in media viewing stand
The back cover of the Olixar Wallet Case is designed to allow the OnePlus 3T / 3 to fold onto itself horizontally. This creates the perfect viewing stand for watching movies, listening to music or even web browsing.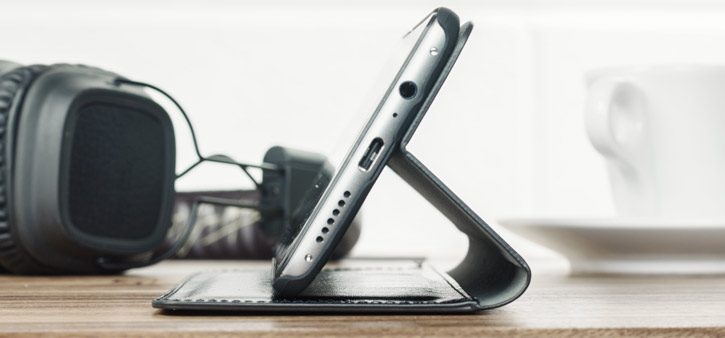 Designed for the OnePlus 3T / 3
As the case is designed specially for the OnePlus 3T / 3, you can be sure of a perfect fit and access to all of the ports and features of your phone.