Additional information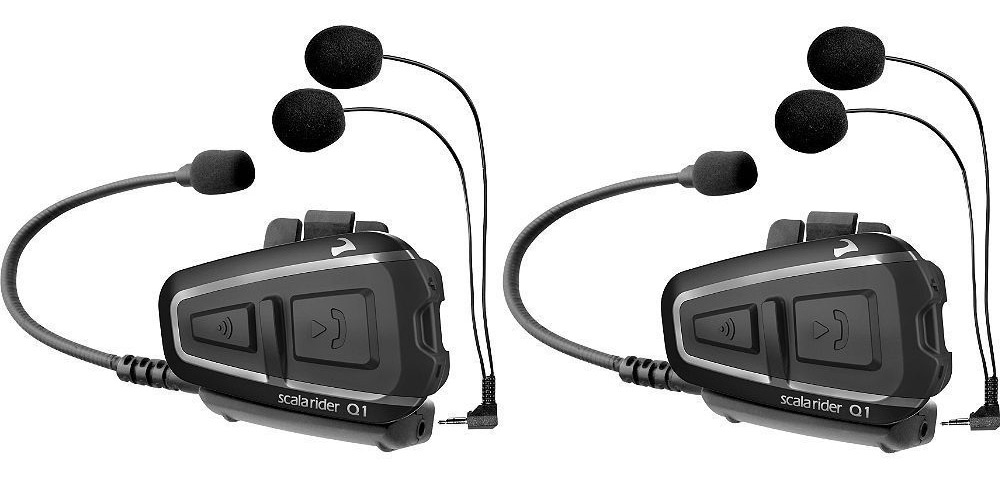 The ideal Motorcycle Intercom system
The Cardo Scala Rider Q1 TeamSet was designed with couples, partners or friends in mind, offering a reliable, crystal clear rider-to-passenger intercom with full duplex audio. No longer do you have to shout over a powerful engine or heavy traffic as with this system you can hear every word said.Not only can you communicate with your passenger, you can also communicate with nearby Scala users. There are two pre-paired Q1 headsets included for rider and passenger so you're pretty much good to go out of the box.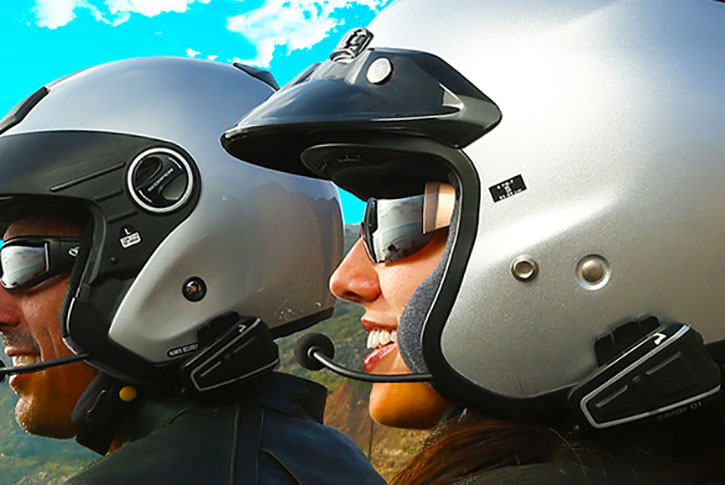 Share your music - Wireless stereo (A2DP), FM radio and remote operation of compatible MP3 players
Using the music sharing feature, you can both enjoy the same great tunes at the same time while you ride. Just connect the Q1 wirelessly (via A2DP) to any smartphones or compatible MP3 player, or connect to a non-Bluetooth music player via the AUX input. For FM Radio, there's built-in FM Radio with RDS: 6 station presets with auto scan, automatic selection of the strongest signal, radio on time: 8-10 hours, and automatic radio muting for incoming calls. So many options, and if you're touring, possibly essential.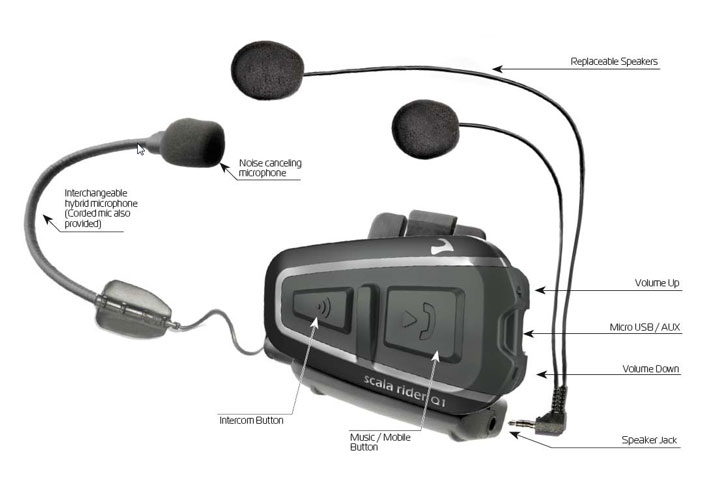 Make & receive calls hands-free
Whether you ride your motorcycle for business or pleasure, you need to stay connected at all times. With the Scala Rider Q1, you will always be available and never have to miss a thing. The Q1 allows you to conduct mobile phone conversations hands-free, so that you can safely and easily make and receive calls while riding. The Q1 uses voice command, so you simply have to speak into the mic to take, reject or initiate calls. Of course, you can always do the same with one quick tap of the multifunction button if you wish.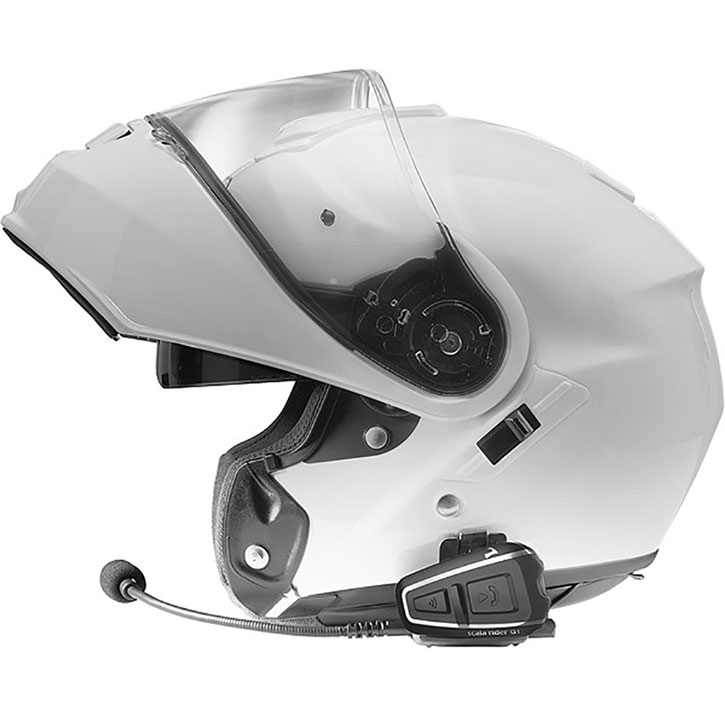 Receive GPS (sat nav) audio instructions
To make sure you are always on the right track, connect your GPS and receive in-the-ear instructions. And don't worry if you're already listening to music; You can set priorities so that your music will be paused momentarily while you receive an instruction (or call for that matter).
Multipoint technology
With Multipoint technology you can connect the Q1 to two Bluetooth devices simultaneously allowing you to have both your GPS device and smartphone running at the same time. The Headset will intuitively switch between devices to alert you of incoming calls so you can stay up-to-date with all your smartphone activities. If you own a business and a personal phone, you no longer have to worry about missing calls on either while you're riding.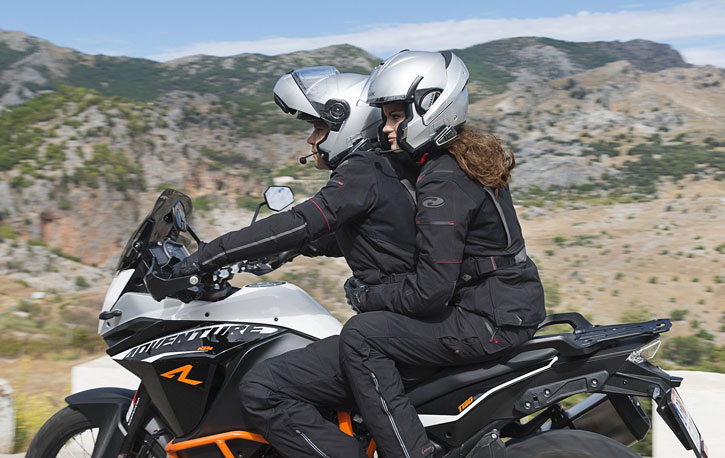 Waterproof and dustproof IP67
The Q1 is waterproof and dustproof so you can be sure it will stand up to a battering from the weather as you're riding.
When on the road, you can use Cardo's exclusive SmartSet Android™ app (available free via Google Play) to easily modify your Q1 settings from any Bluetooth-enabled Android device.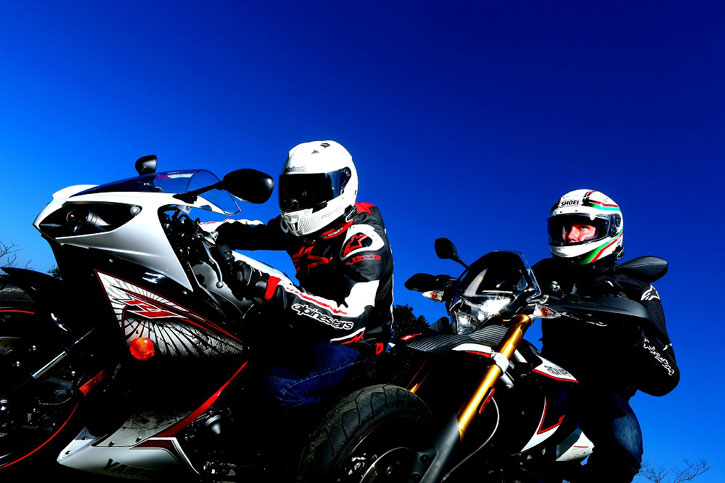 Special Features
Rider-to-Passenger intercom in full duplex
Music Sharing: Rider and passenger can enjoy listening to the same stereo music (via A2DP)
Detachable Speakers: Users can plug in their own speakers (3.5mm jack)
Large, intuitive control buttons
Click-to-Link spontaneous intercom with no need for pairing
Interchangeable boom and corded microphones included to fit virtually all helmets
Unique online platform allows you to customize settings and receive software updates via your computer
Hot-Dial number can be programmed for use in any country or region
AGC technology: Self-adjusting speaker volume according to speed and ambient noise
VOX activation: Make and answer phone and intercom calls without taking your hands off the handlebars
Built-in FM radio with RDS, 6 programmable station presets and smart auto scan
Spoken Status Announcements so you always know to which devices your scala rider is connected
Up to 10 hours talk-time / 1 week standby (recharging from wall outlet or USB connection)
Noise cancelling microphone
Certified waterproof and dustproof (IP67 standard)
Multiple Connectivity options:
Dual HS profile for connection to 2 Bluetooth-enabled mobile phones simultaneously
Stereo Bluetooth (A2DP) enabled MP3 player/iPod or smartphone to stream wireless music
Non-Bluetooth audio player (via MP3 cord)
Bluetooth-enabled GPS unit for in-helmet navigation instructions (GPS must support HS profile)
Other Scala Rider models for intercom conversation