Official Huawei P9 Smart View Flip Case - Brown
Product part number: 51991511
Product reference: 59263
Protect your Huawei P9's screen and keep to date with the time and notifications thanks to the intuitively designed smart view window in the brown Huawei flip case. Crafted from the finest materials, the case provides a sophisticated feel.
"Love it...But Not a Lot"
Also available:
Most useful customer reviews
Terry Simmons
Essex
Huawei P9
16 Juni 2016
Love it...But Not a Lot
So here we go my review of the Official Huawei P9 Smart View Flip Case. I have spent many a year buying cases for many gadgets and apart form the ones from a fruit based brand I am always disappointed with 3rd party cases. I bought a cheaper case for the P9 and it looked cheap so I took the plunge and shelled out 2500 of my hard earned pennies and went for the official case. Packaging is nice but not over the top and the moment you remove the case you tell it is a premium product. Even as a flip case it is thinner than the soft shell case I previously purchased. Up until the other day this would have been a 5 star review however, I have noticed a few marks on the screen right where the smart view window is. Whilst they are not scratches I am concerned that this could easily cause a scratch. I normally prefer screen protectors however, I have not found one that fits edge to edge yet. Would I recommend this product then yes although, I would pick another colour if I had another chance. The brown is nice but I think the Grey is more to my liking. Hope my review helps you with your decision.
44 Reviews
|
Write a review
---
Additional information
View your notifications quickly through the Smart View window
The Official Huawei Flip case features an intuitively designed Smart View window in the front cover, allowing you to quickly and easily view the time, date, weather and your notifications without the need to open the front cover.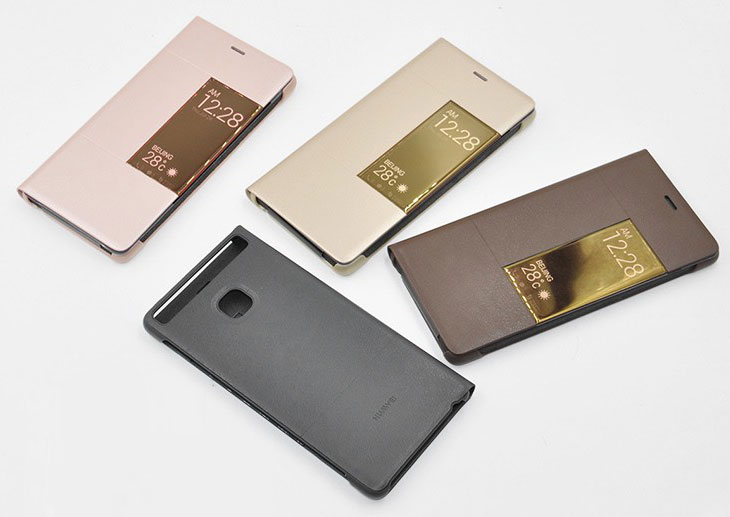 Official Huawei accessory made for the P9
This is an official Huawei product, so it's made to the highest standards with the best quality materials.
It is designed specifically for use with the Huawei P9, so offers a perfect fit and does not impede the use of any of the functions including the power and volume buttons, headphone and charging ports or front and rear cameras.
Provides comprehensive protection for your phone and the screen
Protect the front of your P9 from scratches, scrapes and front-on impacts with the official flip cover. The most important part of the phone, the screen, is also protected from harm.
Slimline and durable construction
Made from high quality synthetic leather materials, this flip cover will keep your P9's screen looking good as new.
The cover is tough enough to withstand day-to-day punishment without blemishing, so both your phone and cover will remain pristine for longer.