Most useful customer reviews
4 Januar 2016
Nice little thing
I bought it as I am a gadget freak. It took some time to assemble it but it works very nice. You have a small cinema in your house. Dont expect a huge screen though.
Janine Shelby
Nottingham
iPhone 6
12 Maj 2015
Great novelty gift
I bought this for hubby as a bit of novelty, but it's actually great fun. You need to make sure it's nice and dark, but that's to be expected I guess. Get the popcorn on!
Chilli Boy
Dursley, Gloucs
S5
29 April 2015
Ideal for get togethers
Bought this before I got married in order that I could share my special day again and also our memories of our honeymoon. Easy to set up and use, it took me seconds to get my S5 into the projector and the enlarged screen onto my living room wall. I had to close the curtains to get a really good image, but that was no problem as it added to the show! The construction is of cardboard, but dont be put off as it is very strong - it survived being held in the postal depot while we were away before collecting it. Would recommend if you have a large family such as mine, or for use at a kids party perhaps.
9 Reviews
|
Write a review
---
Additional information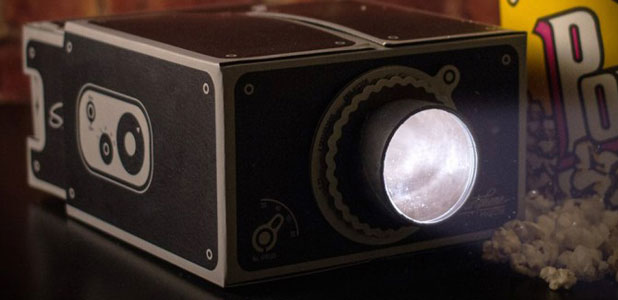 Transform smartphone videos from your phone onto the big screen
Turn videos stored on your phone or playable through applications such as YouTube and Netflix into cinematic greats with the Portable Cinema. The Universal Smartphone Projector allows you to watch videos in total comfort, saving you from having to hold your phone for extended periods of time. Another great application of the Universal Smartphone Projector is to allow multiple people to watch the same video without the need to huddle around a tiny screen, so with the Portable Cinema you can share those classic moments with friends and family as they were meant to be seen.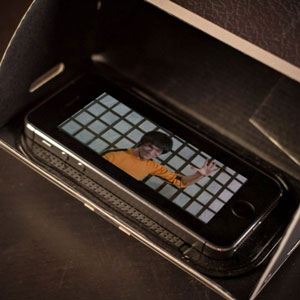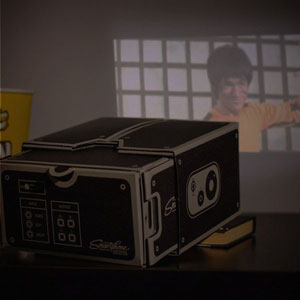 Project with 8x magnification
Containing high-quality glass lenses, the Portable Cinema gives you an impressive 8x magnification on your videos, showing them in all their glory.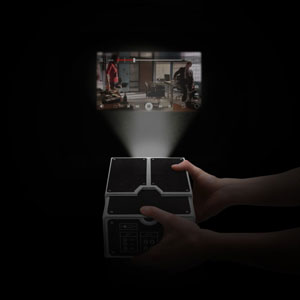 Quick and easy to set up
The simplicity of the Portable Cinema allows you to set up in seconds, much quicker than faffing around with a complicated real projector. Once set up, simply slide your smartphone onto the non-slip pad and close the tray to start making your media larger than life.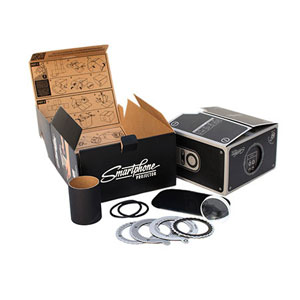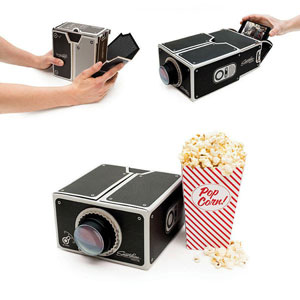 Lightweight and highly portable
Made from lightweight and durable materials, the Portable Cinema can be taken anywhere and easily stored away when not in use.
Attractive retro design
The retro projector designs adds to the magic, enhancing your movie going experience no end.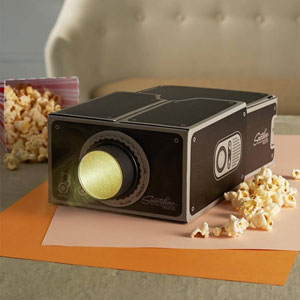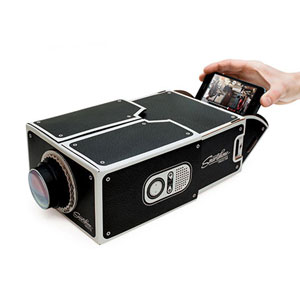 Made from rugged cardboard
The Portable Cinema is made from tough and highly compacted cardboard, this provides a lightweight yet sturdy structure, ensuring that your new home cinema will stay in pristine condition.
Technical Specifications:
Fits smartphones up to: 145 x 80mm
Device measurements: 175 x 105 x 165mm
Please Note: To best preserve the equipment, please keep the lens out of direct sunlight.