Cardo Scala Rider Qz Motorcycle Bluetooth Hands-free Kit
Product part number: 19314
Product reference: 45476
Whether you ride your motorcycle for business or pleasure, you need to stay connected at all times. With the Scala Rider Qz from Cardo, you can make and take calls, listen to music and receive sat nav instructions safely.
"Great for the price"
"brilliant"
Most useful customer reviews
Andrew Holwerda
Hertfordshire
Scala Rider QZ
14 April 2017
Great for the price
I was on a weekend bike trip and wanted something to connect to the satNat and phone ( for music). It was simple to put in the helmet, you have to make sure your posittion the speakers correctly, I found that out after the weekend. They are deffinatly loud enough, I had earplugs in and doing 80mph ( legally) and i had to turn it down. Also make sure the satnav you have has a blue tooth function for microphone as a normal car one wont connect. Even so I listened to music and the sound is great. I used it to call someone and you can hear and talk so all good there for sure. all in all a great bit of kit.
tony leah
stockport
scala rider qz
3 Marts 2017
brilliant
it works a treat makes my sat nav so easy to use.clips on the side I used the glue plate.speakers wers arkward to get in place but that's the helmet s fault, not the qz.
9 Reviews
|
Write a review
---
Additional information

Make & receive calls hands-free
Whether you ride your motorcycle for business or pleasure, you need to stay connected at all times. With the scala rider Qz, you will always be available and never have to miss a thing. The Qz allows you to conduct mobile phone conversations hands-free, so that you can safely and easily make and receive calls while riding. The Qz uses voice control, so you simply have to speak into the mic to take, reject or initiate calls.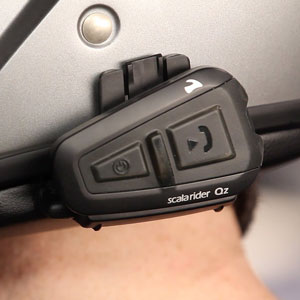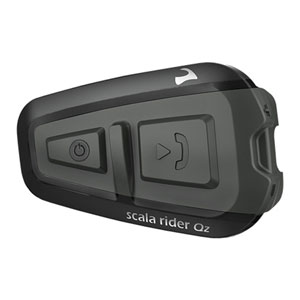 Receive GPS (sat nav) audio instructions
To make sure you are always on the right track, connect your GPS and receive in-the-ear instructions. And don't worry if you're already listening to music; You can set priorities so that your music will be paused momentarily while you receive an instruction (or call for that matter).
Wireless stereo (A2DP) and remote operation of compatible MP3 players
Feel like listening to your favourite music while you ride? Just connect the Qz wirelessly (via A2DP) to any smartphone or compatible MP3 player, or connect to a non-Bluetooth music player via the AUX input (cable available for purchase separately).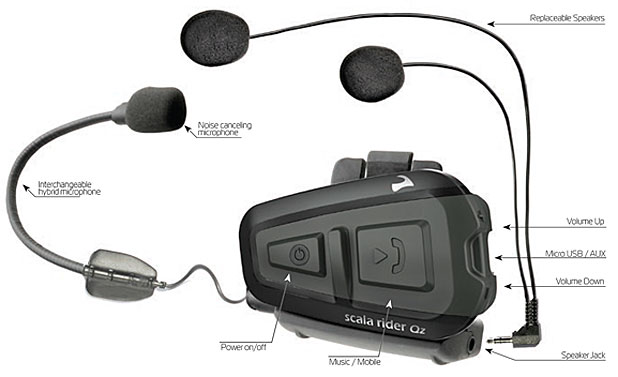 Multipoint technology
With Multipoint technology you can connect the Qz to two Bluetooth devices simultaneously allowing you to have both your GPS device and smartphone running at the same time. The Headset will intuitively switch between devices to alert you of incoming calls so you can stay up-to-date with all your smartphone activities. If you own a business and a personal phone, you no longer have to worry about missing calls on either while you're riding.
Waterproof and dustproof
The Qz is waterproof and dustproof so you can be sure it will stand up to a battering from the weather as you're riding.
When on the road, you can use Cardo's exclusive SmartSet Android™ app (available free via Google Play) to easily modify your Qz settings from any Bluetooth-enabled Android device.
Special Features
Make & Receive calls - connect 2 mobile phones simultaneously
Receive GPS (sat nav) audio instructions
Wireless stereo (A2DP) and remote operation of compatible MP3 players
Customise settings and receive software updates*
Hot-dial number (Customisable)
Replaceable stereo speakers (3.5 mm)
Self-adjusting speaker volume according to speed and ambient noise (Customisable)
Voice-control to answer mobile phone calls
Up to 10 hours talk-time / 1 week stand-by
Waterproof and Dustproof