Most useful customer reviews
Stephen Jones
Yorkshire
Olixar blue tooth FM Radio
24 Juni 2016
Brilliant
Connects easily and works well with my iPhone
Martin O'Grady
Scotland
Iphone 5s
22 Februar 2016
Truely mobile music on the go
Great product for enabling playing your music via Bluetooth on your car radio. no hassle with cables. Ability to change tracks on the device. Only minor drawback is that it doesn't stay permanently paired with your phone, however, pairs again very quickly when you go into your Bluetooth settings and pair. Having bought alternate models which promise full Bluetooth without cables and been disappointed, this one delivers at a great price.
18 Oktober 2015
Best product
I just loved yours delivery right at the time. The items are the same as you guys told us in video. Awesome site to buy a product and very pleased with delivery
127 Reviews
|
Write a review
---
Additional information
Send music and calls through your car speakers
Fed up of only having a single CD in your car? Wish you could have a larger selection of tracks at your fingertips that could be played through your in-car stereo system?
Introducing the Olixar SMARTUNE, that transforms your smartphone or tablet into an FM Transmitter, so you can enjoy a wide range of music heard through your car's much louder and clearer speakers.
Listen to your music, podcasts or audiobooks in style using the Olixar SMARTUNE Bluetooth FM Transmitter.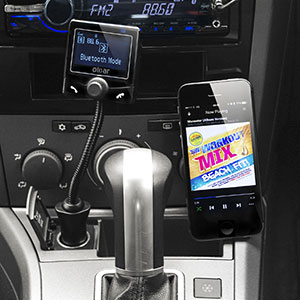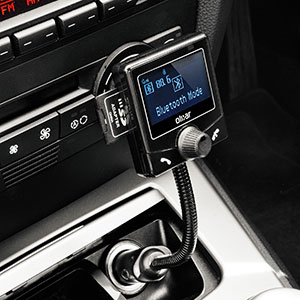 No installation required FM transmitter
No wires, no installation and no mess!
Your smartphone or tablet speakers are very small and although have become more impressive over the years, they could never compete with the size and quality of an in-car stereo speaker system.
The Olixar SMARTUNE transmits audio through to your car speakers using your FM radio. Simply tune your car radio to a clear FM frequency and then select the same exact freqeuncy on the Olixar SMARTUNE.
Hands-free calling via Bluetooth
With the built-in microphone and Bluetooth capabilities, the Olixar SMARTUNE allows you to make and receive phone calls - providing a hands-free solution for your conversations when in the car for your safety and convenience. Don't risk losing control of the steering wheel or breaking the law by holding a phone up to your ear, instead using the Olixar SMARTUNE to make and receive calls - all through your car's stereo system.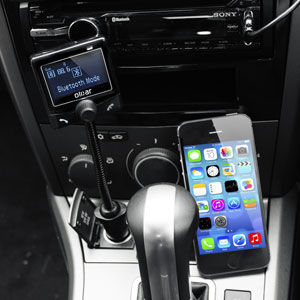 Charge your device while you drive
Using your existing USB charging cables, you can plug your USB charging compatible device into the Olixar Smartune for extra juice. Never be without power, so you can make that important phone call or for power intensive location apps including using your phone as a sat nav.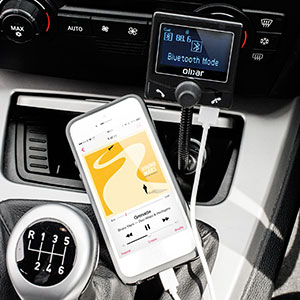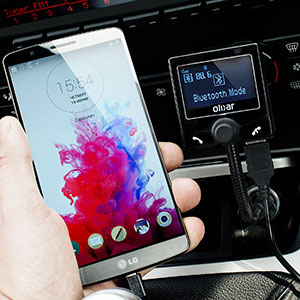 1.8" display adjustable to any angle
Plugging into your in-car electrical power outlet - the Olixar SMARTUNE is not only powered, but is also capable of adjustment so you can easily view the display. The gooseneck design allows you to adjust the angle of the display so you can view it from a more comfortable position, which also allowing you to plug in your devices without interfering with any other controls.
The display details which track is playing from any SD card or USB memory stick, so you can navigate its folder structure as well as selecting a specific audio file to play.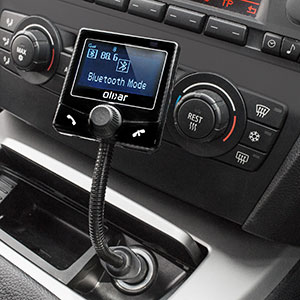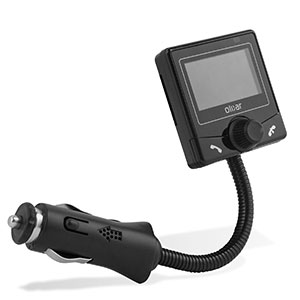 3.5mm line-in port for audio input from smartphones and tablets
An absolutely enormous amount of devices support the use of headphones and it is this same 3.5mm port that you can use to plug into the Olixar SMARTUNE. Use your smartphone, tablet, sat nav or other music playback device to send music to the SMARTUNE, which will then be sent to your car's stereo system.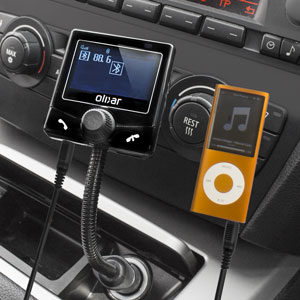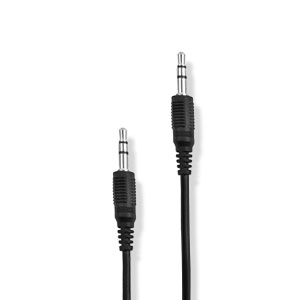 SD card / USB stick storage support for audio playback
With the built-in SD card reader and USB port, you can play your MP3 / WMA files through to your car stereo using either an SD card or USB memory stick.
If you don't have your phone or tablet with you, the SD card reader and USB port is ideal for plugging in your other file storage devices so you can still enjoy your collection of music, podcasts and audiobooks.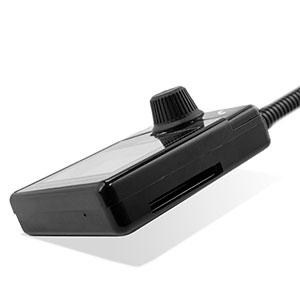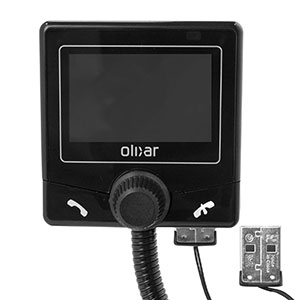 Compatible with all popular music services including Spotify and YouTube
With music streaming services becoming more and more popular, you are able to play your music through the Olixar Smartune Bluetooth FM Transmitter even when using Spotify, YouTube, Pandora, Xbox Music and even Last.FM.
Specifications
Power Supply: DC 12V – 24V
Supported File Format: MP3 / WMA
Inputs : USB / 3.5mm audio / SD slot
Transmitting distance: 3 - 5 meters
Bluetooth: V1.1/1.2/2.0 Class 2 - A2DP
(Advance Audio Distribution Pro?le) for wireless transmission