Kikkerland iBed Lap Desk for iPads and Tablets - Black
Product part number: US039-BK
Product reference: 42355
Use your tablet in bed, on the couch or on a plane all while you eat and more with the Kikkerland iBed Lap Desk in black. Great for students, travelers or anyone with a tablet computer.
"iphone stand with place for a cuppa"
"Sitting up Proud"
"fantastic you hve done it again"
Most useful customer reviews
Ieuan D John
Neath West Glam
7 Januar 2014
iphone stand with place for a cuppa
This stand/tray is the best idea yet it holds the ipad4 perfectly it has a bean bag type underneath which moulds to you lap or any surface you use it on perfectly balanced no home should be without one .I have bought 2 and are being used daily well done Mobile fun anther good one , keep it up
dcb
Haslemere
Kindle fire
6 Januar 2014
Sitting up Proud
The lap Dessk is just a very simple device that does the job so well & at very little cost. Great in the morning while you are eating your breakfast propped up in front of you instead of laying in the way of your dripping coffee mug, a very good buy
Mr Ieuan D John
Wales
ipad 4
31 December 2013
fantastic you hve done it again
fantastic you hve done it again tried the one with keyboard with the metal outside an a lot more money than this . don't hesitate this is the best on the market so far ,holds the iPad 4 perfectly. Would recommend to everyone .
39 Reviews
|
Write a review
---
Additional information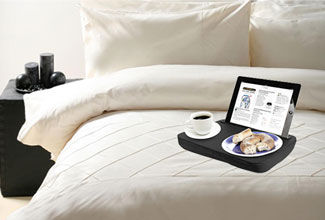 Rest your tablet, rest yourself
The Kikkerland iPad iBed is ideal for positioning your tablet in front of you on your lap while you sit or lay down.
With the included slot, you can insert your Apple iPad or other tablet in either landscape or portrait views while you use the rest of the iBed to hold other items.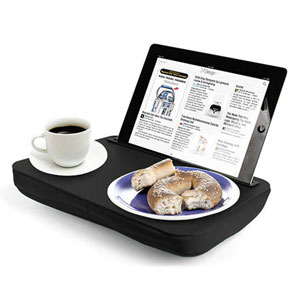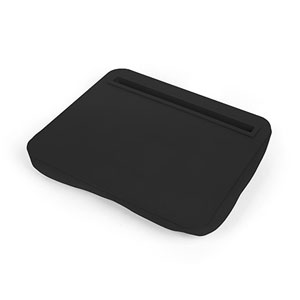 The ideal travel companion
Whether at home, at work or travelling - the iBed provides a comfortable rest for your tablet all while you use the rest of the space for holding food and drink items.
When space is at a premium, the iBed offers a comfortable and relaxing method of surfing the World Wide Web, checking your email or browsing Facebook, Twitter and other social networks.
Comfortable padded base
The iBed's padded base provides a soft comfortable platform for its use when resting on your lap, tables or bed. The iBed's soft cushioned base prevents any aches and pains which may occur from resting your tablet and breakfast on your lap normally, meaning you can enjoy a pleasurable browsing and eating experience wherever you are.
Dimensions:
L 9.45" x W 11.42" x H 1.18"
Tablet width: 24.5cm