Kikkerland iBed Lap Desk for iPads and Tablets - Red
Product part number: US039-R
Product reference: 42345
Use your tablet in bed, on the couch or on a plane all while you eat and more with the Kikkerland iBed Lap Desk in red. Great for students, travelers or anyone with a tablet computer.
"not bad"
Most useful customer reviews
kevin drewery
none of your buisiness
laptop
7 Januar 2017
not bad
bought the item for my mum she finds it very useful better able to use her I,pad for general communications with people
39 Reviews
|
Write a review
---
Additional information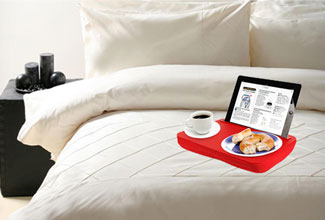 Rest your tablet, rest yourself
The Kikkerland iPad iBed is ideal for positioning your tablet in front of you on your lap while you sit or lay down.
With the included slot, you can insert your Apple iPad or other tablet in either landscape or portrait views while you use the rest of the iBed to hold other items.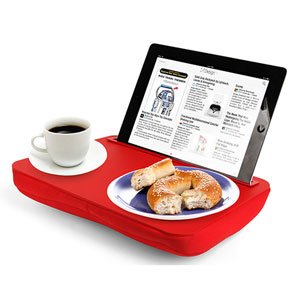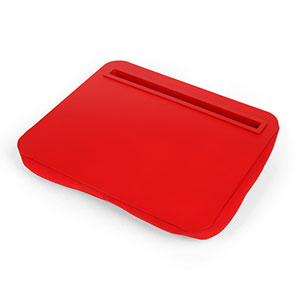 The ideal travel companion
Whether at home, at work or travelling - the iBed provides a comfortable rest for your tablet all while you use the rest of the space for holding food and drink items.
When space is at a premium, the iBed offers a comfortable and relaxing method of surfing the World Wide Web, checking your email or browsing Facebook, Twitter and other social networks.
Comfortable padded base
The iBed's padded base provides a soft comfortable platform for its use when resting on your lap, tables or bed. The iBed's soft cushioned base prevents any aches and pains which may occur from resting your tablet and breakfast on your lap normally, meaning you can enjoy a pleasurable browsing and eating experience wherever you are.
Dimensions:
L 9.45" x W 11.42" x H 1.18"
Tablet width: 24.5cm