Most useful customer reviews
Robert
Essex
Samsung Galaxy Core
27 Juni 2017
Great product!!
Easy to use & apply. No fiddling with stick on screen protectors & air bubbles. Enough left over to apply on other screens as well.
harry jones
oswaldtwistle lancashire
samsung s7 edge
21 Juni 2017
superb
exactly what it says on the box.A bit of messing to prepare,but when fitted it is quite awsome.
Yaroslav Barsoukov
Warwickshire
Samsung A5
7 April 2017
Great part
Can not feel the difference, but obviously the device became crystal clear and more durable to scratches. I am not using any case, my phone remains like new
352 Reviews
|
Write a review
---
Additional information

Apply to virtually any device
Crystalusion is a revolution in screen protection, offering an easy solution to protect and easily maintain media devices - including smartphones, tablets, mp3 players, laptops and sat nav (satellite navigation) systems.
This new liquid glass protection is safe, natural and eco-friendly. Furthermore, Crystalusion Liquid Glass Protection includes award-winning anti-bacterial nanotechnology.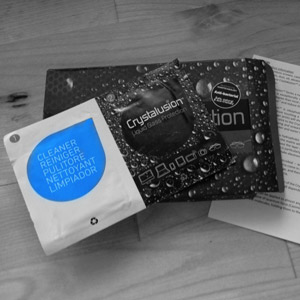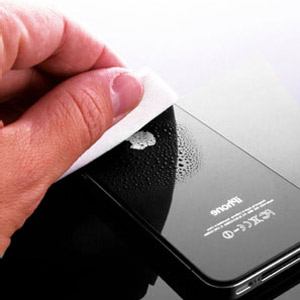 Provides an ultra-thin, bubble free protection
Utilising nanotechnology, the liquid screen protector provides a resistive layer - protecting coated surfaces from dirt, oil, dust, abrasion and bacteria for up to 12 months.
Rather than a solid layer of plastic, it is actually a liquid that you wipe on to your device. This then sets in a matter of minutes, to form a protective layer that is approximately 500 times thinner than a human hair.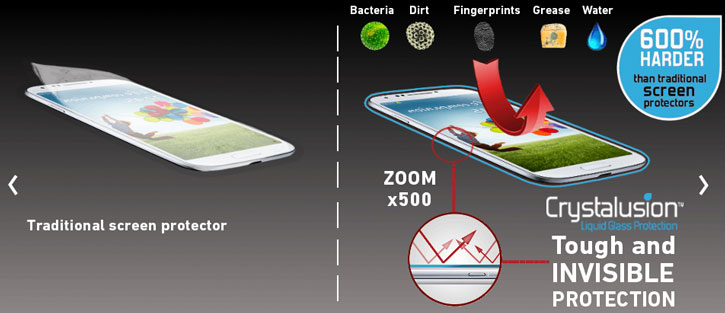 As it's a liquid, there won't be any annoying bubbles that form and you can apply it to the whole of your device for all round protection.
Provides oleophobic, hydrophobic and anti-bacterial protection
Crystalusion is anti-bacterial / anti-microbial, which means it does not support the development of bacteria. When bacteria come in contact with a treated surface, it is not able to divide through ionic exchange and therefore dies.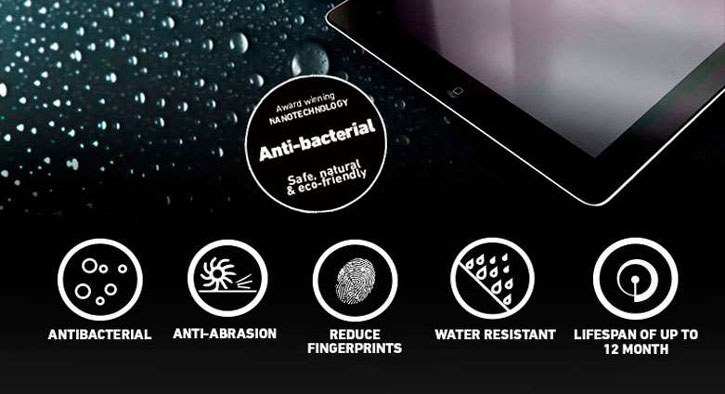 The hydrophobic properties allow it to repel dirt and oil. Fingerprints on the coated surface cannot stick to the Crystalusion layer, which means they can be cleaned off with minimal wiping in comparison to an untreated surface.
The layer is exceptionally smooth, so water isn't able to easily adhere to the surface. This is particularly beneficial when wearing glasses in the pool.

PLEASE NOTE: The application of Crystalusion does not make a product waterproof.
Can also be applied to glasses and sunglasses
The unique properties of the Crystalusion solution mean that they can also be effective for use with glasses, sunglasses or goggles to reduce fingerprint smudging and increase water-resistance.

Pretreated cloths make it easy to apply
You can protect your product by following three simple steps...
Clean
The first sachet includes a pre-treated microfibre cloth, which should be used to clean the device until the entire surface area is free of dirt, grime, fingerprints, cosmetics and oil deposits.
Apply
Once dry, coat the device in Crystalusion Liquid Glass Protection using the pre-treated microfibre cloth contained in sachet. Continue to apply to the device until the cloth is completely dry. After application, allow the device to dry for at least 5 minutes before handling.
Dry
After 5 minutes the device is touch dry and can be handled lightly, but we recommend you allow a 12 hour drying time for the Crystalusion™ liquid glass layer to form.
PLEASE NOTE: The best performance is achieved after several hours has elapsed, we recommend that you coat your device immediately before a period where your device is unlikely to be handled - just before going to bed is a great time.