Most useful customer reviews
Serena Yung
Canada
Sony Xperia M4 Aqua
4 November 2015
Sweet!
Got my stylus in just a few days! (I believe it was just 2 or 3 days, and I live in Canada, so it was really fast.) This blue stylus is very pretty, blue, silver, and sleek, and I like the rubbery bouncy feel of the tip on my screen. My stylus certainly lets me rest my fingers and thumbs! The only minus side is that the ball point pen (on the other end of the stylus pen) keeps slipping out while I'm tapping my phone screen with the stylus end. So I had to keep twisting the ink pen back in. However, this ink pen is great for those days when you forget to bring a pen and desperately need one--I've already experienced one of those days! Overall, great product!
Anonymous
Unknown
iPad and Samsung Fame phone
14 April 2014
Replacement as lost original
Had to get a new one as I lost the original one. Great combo, pen and stylus
Anonymous
Unknown
Samsung Galaxy S2,
1 April 2013
Fingers too big? Freezing Outside?
want to speed up txting?, fingers too big? get this pen! writes on paper and screen perfect & you don't need to take your gloves off!
165 Reviews
|
Write a review
---
Additional information
Omnidirectional tip for accurate on-screen interaction

The iDuo stylus has an omnidirectional tip which you are able to use on-screen in any direction you wish. This allows for accurate on-screen movements, drawings and precision touches.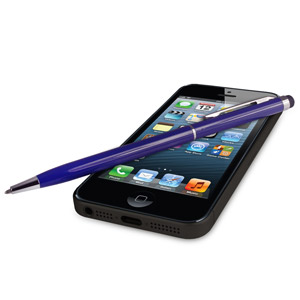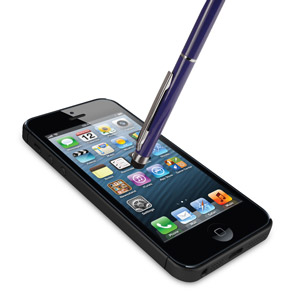 Reduces on-screen fingerprints

With the use of a stylus, on-screen fingerprints and smudges will be significantly reduced which improves screen clarity enabling you to use your tablet for a much longer time without getting frustrated and having to clean it.
Works with all capacitive screens

This stylus will work with all capacitive touch screen tablets and phones, which is 99% of the latest devices.
High quality ballpoint pen at the other end

If the great stylus wasn't enough for you, there is a built-in ballpoint pen at the other end which is revealed by twisting off the cap. This means you can take the stylus everywhere with you - and always have somewhere to use it.