Most useful customer reviews
Linsey
Newcastle
Olixar RoadTune Universal Hands-free In-Car Kit with FM Transmitter
17 December 2015
Fantastic!!!
This is the best of its kind I've had and boy I've had a few!! I use it with my iPhone for my music & the sound is brilliant like being in a disco. It also doubles up as hands free so I can chat to all my friends or video myself singing whilst driving along!! Love it, as good as an in car system!
Andrew Frintzilas
Manchester
LG G4
15 September 2015
great hands free mit
Great little hands free kit once you've set it up. Tune in the desired Radio frequency and don't forget to save it to one of your programmed channels to make it easier when receiving a call. You simply press a button rather than fumbling around looking for the channel. Clear sound through your Radio.
31 August 2015
Great device - works great
Great device and fast delivery by MobileFun. The device works for virtually any phone.
350 Reviews
|
Write a review
---
Additional information
An all-in-one car kit solution for music / call streaming and charging
Designed to make car journeys more enjoyable and hassle-free, the Olixar RoadTune Universal Charging Car Holder holds your smartphone safely and securely while charging from your vehicle's 12V or 24V power outlet.
Furthermore, it features a built-in FM transmitter, which connects to your in-car radio to allow streaming of music and calls through your car's speakers.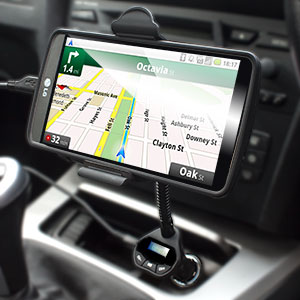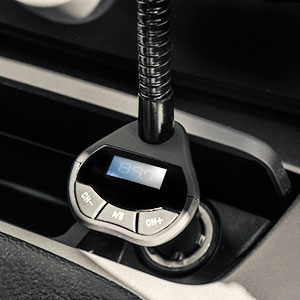 Holds devices 58mm to 85mm in width safely and securely
Manufactured from a high quality polycarbonate and ABS composite - the Olixar RoadTune includes foam lined, spring loaded jaws which can extend to a width of 85mm. This makes it ideal for use with even large handsets, including the Galaxy Note 3 and handsets with even bulky cases such as the OtterBox Defender.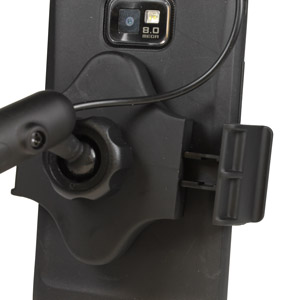 Can be positioned at multiple angles for a clearer view
The ball and socket joint rotates through a complete 360°, making it easy to find a comfortable angle horizontally or vertically while driving. This makes the Olixar RoadTune perfect for using your phone to take calls hands-free or as a sat nav (satellite navigation) system.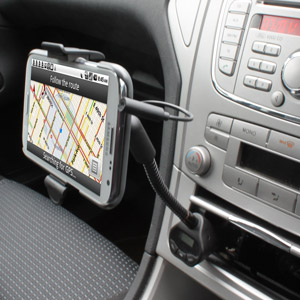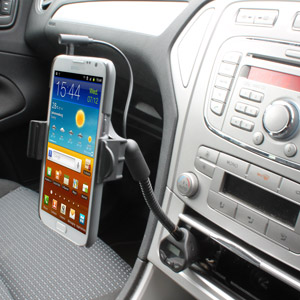 Stream music from your phone through the car stereo
The Universal Charging Car Holder is an FM transmitting car kit, enabling you to transmit music and calls from your mobile phone through your vehicle's speakers without the need for any technical installation.
Simply plug the car holder into your vehicle's electrical outlet and connect your phone to the device using the 3.5mm audio port. Find an empty FM frequency that isn't being used by another station and tune the holder to the same frequency, then enjoy streaming your music and calls from your mobile device.
Built-in microphone for hands-free calling through your car speakers
The Universal Charging Car Holder includes a built-in microphone, which allows you to make hands-free calls from your handset. Furthermore, it includes noise cancelling technology to ensure that your audio is loud and distinct.
If a call comes through, your music is paused and the call is heard through your car's stereo speakers.
Built-in 1A USB slot to charge smartphones
Featured on the side of the FM transmitter unit is a 1 Amp USB charging port, allowing you to use the included charging cable to charge most mobile devices.
This means that you can keep your phone's battery charged when conducting battery intensive activities - including streaming music through the unit, taking calls and using your device as a sat nav.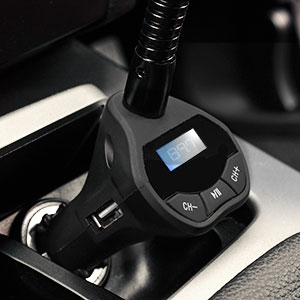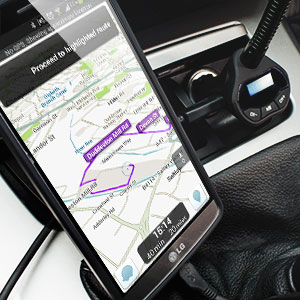 Adjustable gooseneck stand design
Powered by your car's electrical outlet, the car holder features an 80mm adjustable gooseneck stand - allowing you to adjust the unit to the most comfortable and unobtrusive position for your driving.
Technical Specifications:
Adjustable Jaw Width: 58mm - 85mm
FM frequency range: 88.1

Mhz

- 107.9Mhz
Adjustable 360° Rotation
USB output DC 5V/1000mA